Small Cap Value Report (Wed 1 Nov 2017) - NXT, BEG, LPA, ZTF
Good (Tuesday) evening, Paul here. This is a placeholder article for Weds morning's RNSs, so that readers can post your comments in advance of me writing the main report. See you in the morning! Best wishes, Paul.
---
Good morning! Paul here. I'm a bit pushed for time this morning, as I have an investor lunch shortly. So I'll work through as many stocks in the header as possible, and then finish off any stragglers this evening.
Next (LON:NXT)
(at the time of writing, I hold a long position in this share)
Q3 trading update - not a small cap, I know! However, traditionally I report on this company's updates, as they're so full of useful information, and have read-across for the general retail sector.
The continuing trend for Next is that its shops are struggling, but its Directory business (a lot of which is online now) is doing really well;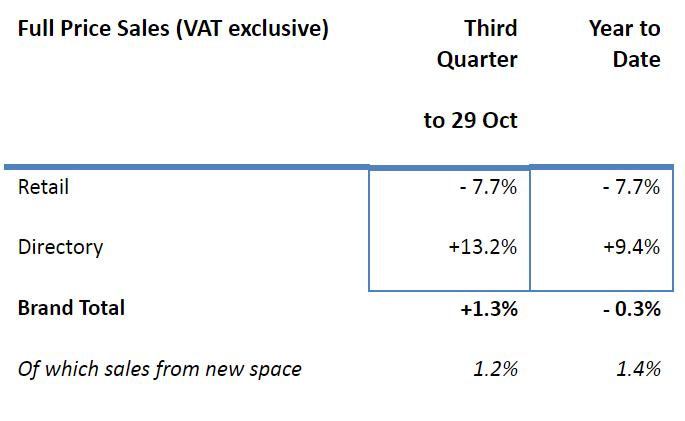 Full year (y/e 31 Jan 2018) profit guidance remains unchanged, but the lower & upper ranges have both been tightened by £5m.
EPS forecast is now in the range of -10.0% to -3.5% versus last year, little changed from previous guidance.
This is probably the most interesting graphic, showing a sharp recent slowdown in sales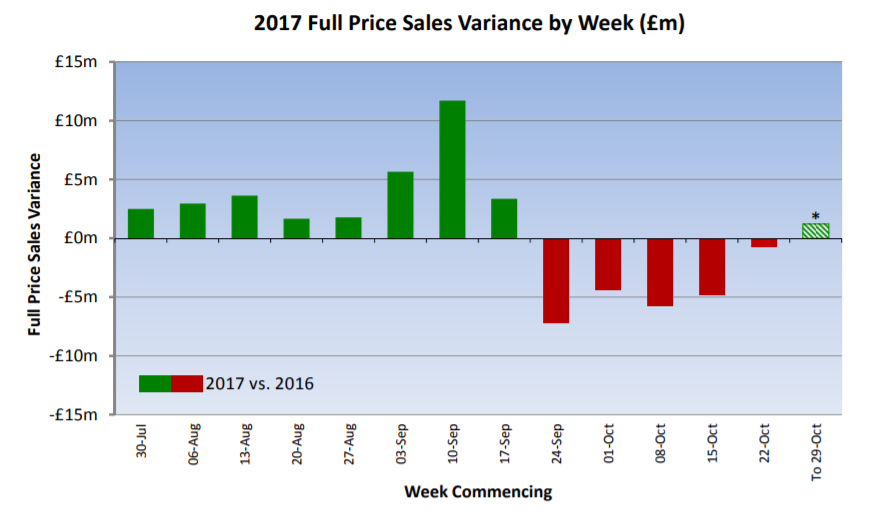 No doubt some people will want to blame this on Brexit. However, it's actually due to the weather;
It can be seen that sales performance has remained extremely volatile and is highly dependent on the seasonality of the weather.  In August and September sales were significantly up on last year, as cooler temperatures improved sales of warmer weight stock.  The change in sales trend came at precisely the same time UK temperatures became warmer than last year
Normally I scoff at retailers blaming the weather. However, in this case, Next has a well-deserved reputation for being absolutely straight with investors. Next tends to tell it like it is, hence why its updates are so worthwhile to follow.
A friend (former fashion retail FD) flagged to me yesterday that John Lewis's weekly sales data showed a sharp slowdown in recent weeks. So he correctly forecast that Next would likely show a similar recent deterioration in sales. I owe…

Unlock the rest of this Article in 15 seconds
Already have an account?
Login here