Small Cap Value Report (Wed 12 April 2023) - SED, SOS, SYS1, EMAN,DLAR
Good morning from Paul & Graham!
Signing off for today at 13:08
---
Explanatory notes -
A quick reminder that we don't recommend any stocks. We aim to review trading updates & results of the day and offer our opinions on them as possible candidates for further research if they interest you. Our opinions will sometimes turn out to be right, and sometimes wrong, because it's anybody's guess what direction market sentiment will take & nobody can predict the future with certainty. We are analysing the company fundamentals, not trying to predict market sentiment.
We stick to companies that have issued news on the day, with market caps up to about £700m. We avoid the smallest, and most speculative companies, and also avoid a few specialist sectors (e.g. natural resources, pharma/biotech).
A key assumption is that readers DYOR (do your own research), and make your own investment decisions. Reader comments are welcomed - please be civil, rational, and include the company name/ticker, otherwise people won't necessarily know what company you are referring to.
---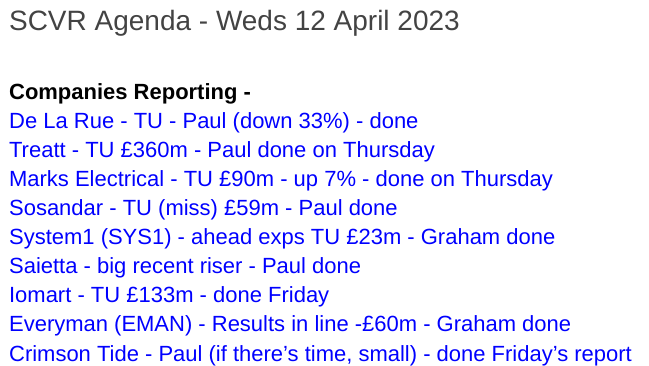 ---
Summaries of main sections
(more detail below)
Sosandar (LON:SOS) - FY 3/2023 TU - unch at 23.5p - (market cap £59m) - Paul - GREEN
Revenue in line with expectations, but PBT is c.£1.6m, a shortfall from £1.9m forecasts. Blamed on accelerated growth spending (eg. some key new hires). Now pushing ahead with international expansion via partner(s), which I think is more important than a slight profit miss. Plenty of cash, following another fundraise recently. Ambitious, capable management. I think risk:reward is now better than it's ever been, with the company now profitable & international expansion starting.

System1 (LON:SYS1) - ahead of expectations TU - up 14% to 185p - (market cap £23m) - Graham - AMBER
Profitable in H2 and for the year. Shareholders must now decide on a proposed management shakeup. As usual, SYS1 looks frustratingly close to long-promised success.
Saietta (LON:SED) - 70.5p (market cap £73m) - Paul - RED
A very strong share price rebound in recent weeks has caught my eye. Unfortunately, I think this looks like a speculative bubble at this stage.Negligible revenue and gross profit to date. Very heavy cash burn means I suspect another fundraise is highly likely, despite the company's…

Unlock the rest of this article with a 14 day trial
Already have an account?
Login here