Small Cap Value Report (Wed 2 Oct 2019) - RBG, TPT, ABDP, KCT, TEG
Good morning, it's Paul here.
I'll be writing all afternoon, as there are no meetings today. Estimated time of completion: 6 pm. There are not many updates today, so once I've covered those, I'll circle back to a few more items of news from yesterday. Today's report is now finished.
---
Meeting with Revolution Bars (RBG)
(at the time of writing, I hold a long position in this share)
I had a very interesting meeting with the management of Revolution Bars (LON:RBG) last night. They ran through a very informative slide deck, with me asking questions along the way. With an improving sales trend during FY 06/2019, and LFL sales having moved into positive territory more recently (+1.2% in Jul - Sep 2019), it seems very obvious that the business is on the mend under the new management. This is shown clearly in slide 4.
A busy schedule of refurbs is proving very effective at lifting sales, and has an excellent ROI - proving that this strategy is better than opening new sites. See this extract from slide 18: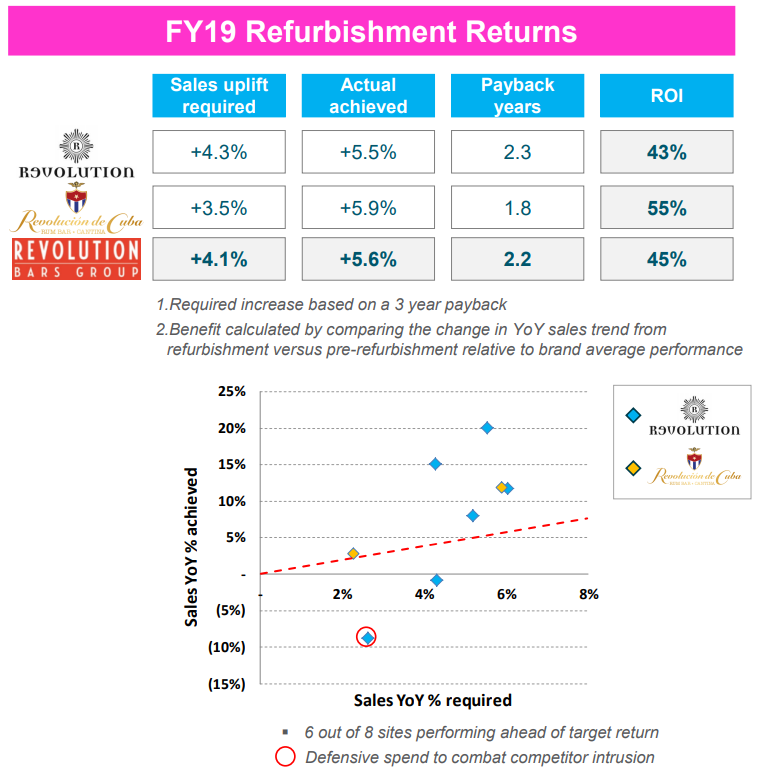 Net debt - was £15m at the year end, and is set to reduce by £5m this financial year, now that the new openings programme has stopped. Refubs only cost about £200k, whereas new site openings cost £1m each. I think there is tacit admission that it was a mistake for previous management to fund lots of new sites with debt.
I very much like this cautious strategy, as it prepares RBG for a potential recession - which could wipe out some of its competition, so not necessarily a bad thing.
I think in more normal markets, the share price would definitely be recovering by now. As with many other shares though, there's a buyers' strike, because people are too nervous to buy before Brexit is resolved, I suppose. Plus there's macro-economic uncertainty everywhere right now. That's definitely creating some pricing anomalies, in my opinion.

People are probably sick of me talking about RBG at the expense of covering other shares, so I'll park this to one side for now.
As an aside, I got caught up in the London rush hour, when the meeting finished at 5:15 pm. What a nightmare, how do people do…

Unlock this Article with a 14 day free trial
Already have an account?
Login here