Small Cap Value Report (Wed 20 March 2019) - IQE, SIS, TAST, AFX
Good morning,
I am back from a brief trip to Hamburg.
I had a look at the Tesla (TSLA) store in Hamburg's most prestigious shopping district, surrounded by jewellery stores. I'm not surprised that it's still open - walking away from that lease at short notice might be tricky! (I am short Tesla.)
---
Companies reporting today:
Cheers
Graham
---
IQE (LON:IQE)
Share price: 83.4p (-4%)
No. of shares: 778 million
Market cap: £649 million
I still don't feel like I understand what "VCSEL" wafers are all about.

Where I do feel confident is in my ability to read financial results from companies. Today's results are consistent with my previous impression of IQE.
Revenue improves marginally to £156 million. This is still a weak number in terms of asset turnover - compare it with average assets being carried during the year of c. £350 million.
Stockopedia includes three of the major efficiency ratios on the StockReport. These are good to check, especially Asset Turnover, for a quick overview of balance sheet efficiency. See the "Other Ratios" section: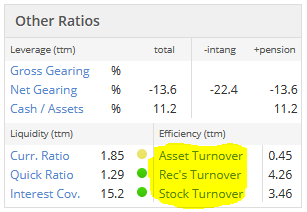 Poor asset turnover like IQE's is not a fatal flaw, but it heightens the need for it to make a very good operating margin. As we are about to see, IQE hasn't been particularly strong when it comes to margins, either.

Bulls will say that the prospects for revenue growth from new applications of IQE's technology are so strong that we should look past the company's inability to generate much cash in the short-term.
For someone who is confident in their understanding of the semiconductor industry, that may be a fine approach. Investing isn't just about reading accounts, after all. But for a simple financial analyst like me, who isn't an industry expert, all I can do in a limited review time is provide a "check-up" on its historic financial performance and its near-term outlook.
IQE's historical performance, in my opinion, has been pretty average. Operating margin has never been consistently high enough to compensate for the company's weak asset…

Unlock this Article with a 14 day free trial
Already have an account?
Login here