Small Cap Value Report (Wed 27 Feb 2019) - NICL, TED , BKS, AVG, ARC, IGE, SIS
Good morning!
Plenty of companies to report on today. I may need to work through the afternoon to cover them all:
---
Share price: £15.80p (+3%)
No. of shares: 37 million
Market cap: £585 million
The secret is out that this soft drinks company is rather high-quality. Let's see how recent performance stacks up:
Geographically: led by UK sales. Held back by weakness in the Middle East (Yemen).
Product-wise: led by fizzy drinks, particularly by its core brand Vimto.
operating profit +10%, although only +3.6% on an underlying basis (2018 benefited from a lack of exceptional items).
final dividend +14.5%.
Operationally:
Vimto still outperforming the wider soft drinks market
Has been buying regional distributors, "consolidating route to market".
Fine weather in 2018 was offset by Co2 shortage.
Achieved distribution to 100 US stores (Walmart).
Outlook: "well-positioned".

My view: in some ways, this company's financial characteristics are dream-like. I'm not in the least bit surprised that it enjoys a Quality Rank of 98.

Is it worth accumulating at the current valuation? I would guess that it probably is. The StockRank of 88 agrees. Nichols is a "High Flyer", one of Stockopedia's winning styles: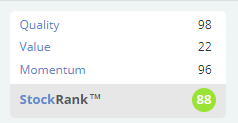 One of my personal ambitions is to own more high-quality drinks companies in my portfolio. So far, I only have Britvic (LON:BVIC) and the rather speculative Distil (LON:DIS).

Nichols (LON:NICL) will be near the top of the list when it is time for me to increase my position size in this industry. The key risk from my perspective is that Vimto is still being enjoyed in another 110 years, but I never got to participate in it!
---
Share price: £17.84 (-11%)
No. of shares: 44.6 million
Market cap: £796 million

Unlock the rest of this article with a 14 day trial
Already have an account?
Login here