Small Cap Value Report (Wed 29 Nov 2017) - IPX, MOTR, CINE, VRS
Morning Everyone,

Thank for the requests - as usual, I prioritise stocks which appear in the comments, while also keeping an eye out myself for new ideas! Paul will be back tomorrow.

Cheers,
Graham
---
Share price: 161.5p (-3%)
No. of shares: 128 million
Market cap: £206 million
This is an environmentally-focused asset manager which I've written about several times this year.
Unfortunately, I didn't have the spare funds to invest in it earlier this year, when it seemed quite cheap against its earnings and prospects.
The value proposition is different now that the share price has trebled in a year: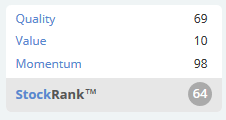 So today's slight dip in the share price is in the context of a company where great things have arguably already been priced in.
The results are excellent, as expected. In the year to September, AuM increased by over 60% (we already knew this thanks to the Q4 update:
Assets under management and advice ("AUM") increased 61% to a new peak of £7.3 billion (2016: £4.5 billion), rising further to £7.6 billion by 31 October 2017
Record net inflows of £2.1 billion across several strategies and geographies
So inflows were responsible for three-quarters of the AuM, with market movements responsible for the rest.

Note also that the $52.5 million acquisition of similar US outfit Pax World is set to complete in Q1 2018. This is a debt-funded acquisition which will increase the company's risk profile in the short-term, but could super-charge earnings per share in future years.

The financial highlights below show the effect of operational leverage, as op. earnings rises at a much faster rate than revenue.
It's worth bearing in mind, naturally, that inflows during the year will not have generated fees for the entire year. You only generate fees on average AuM, not on closing AuM.

Revenue: £32.7 million (2016: £21.1 million)
Operating Earnings: £7.9 million (2016: £4.2 million)
Profit before tax: £5.9 million (2016: £5.2 million)
What may be disappointing investors a little bit is the rather muted PBT figure.
£1 million was spent on advice related to the Pax acquisition. £0.6 million has also been lost in FX translation of the value of foreign currency in advance of that deal. There are some more costs…

Unlock the rest of this Article in 15 seconds
Already have an account?
Login here