Small Cap Value Report (Wed 30 Aug 2017) - GYM, HSS, OPTI
Good morning, it's Paul here.
Apologies for the mix-up yesterday. Graham & I got our wires crossed, and both thought that the other was writing a report. Anyway, I rectified the situation with a report on 5 companies which I published last night. So yesterday's report looked at;
Interquest (LON:ITQ) - another profit warning
Findel (LON:FDL) - trading well, but I have other concerns
Image Scan Holdings (LON:IGE) - positive trading update (I hold this one personally)
IG Design (LON:IGR) - in line trading update, and decent outlook
Real Good Food (LON:RGD) - another profit warning
Here is the link for yesterday's report.
---
GYM (LON:GYM)
Share price: 212p (up 3.4% today)
No. shares: 128.2m
Market cap: £271.8m
Interim results - this company operates 97 low cost gyms in the UK. It reports today on the 6 month period to 30 Jun 2017.
The shares listed in Nov 2015, at 195p each. So overall, little share price progress has been made since then, once the initial flurry of excitement wore off, as you can see from the 2-year chart below;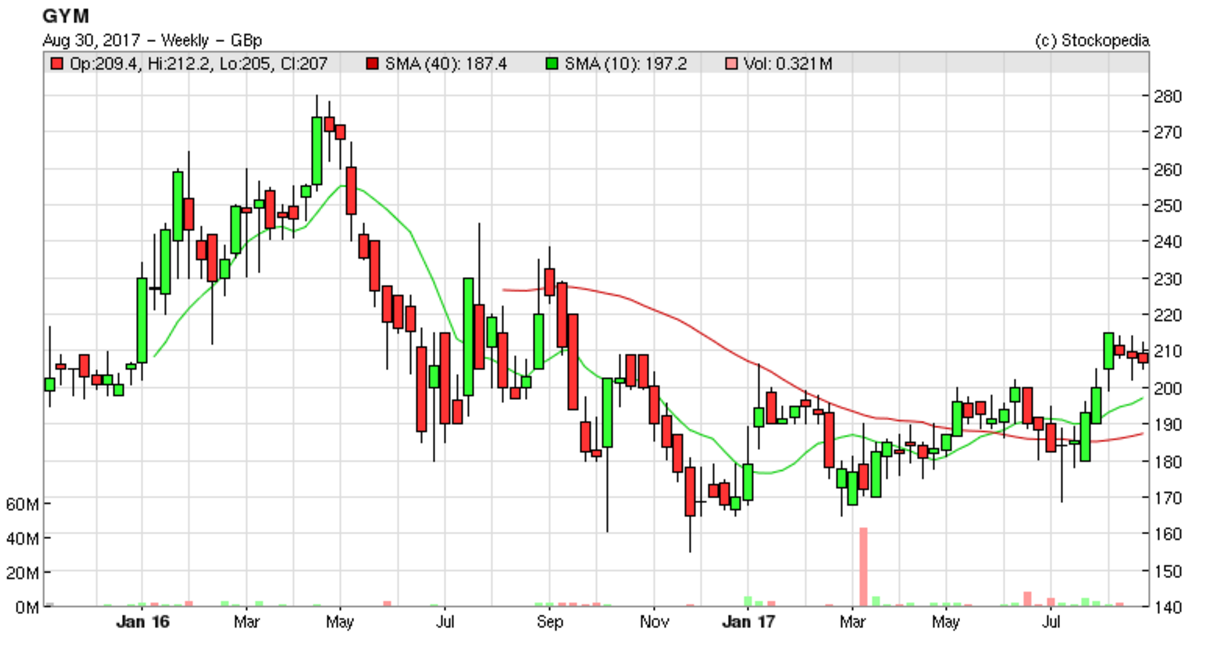 I like the chart - a long period of bottoming out, and now what looks like the start of an up-trend. Could this be a buying opportunity? Let's have a look.
The financial highlights cover the main points, with my highlighting the most important bits;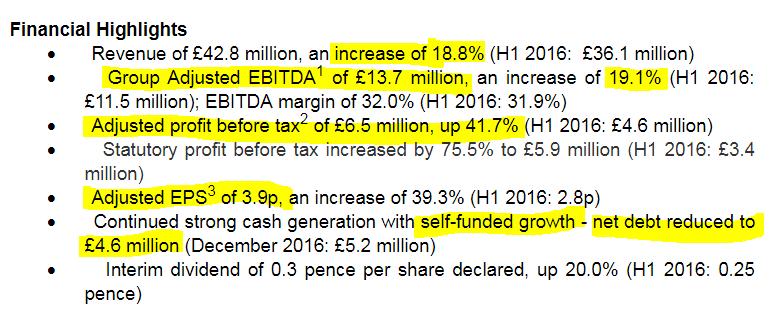 As you can see, there's good growth. This company is basically a self-funding roll-out - i.e. the cashflows from existing sites are being used to finance the opening of new sites. I really like self-funded roll-outs as investments. The beauty is that investors can just sit back for a few years, and watch the company expand & grow more profitable. That usually leads to considerable share price appreciation.
The main risk to roll outs is that operational problems are considerable. Management has to not only manage the growth, but also keep control of a…

Unlock the rest of this Article in 15 seconds
Already have an account?
Login here