Small Cap Value Report (Wed 8 Jan 2020) - RFX, GRG, MPAC, TPT, SHOE
Good morning, it's Paul here.
Please see the header for the shares I will be looking at today.
Estimated time of completion is 1pm.
Edit at 12:17 - I want to spend more time on MPAC and SHOE, so am going to continue until 3pm. Hopefully there will be enough here to keep everyone happy in the 1pm email. Update at 15:09 - today's report is now finished.

Early snippets - no doubt MrC will cover these in his usual (very helpful) morning comment below, but this is what caught my eye on my first scan of the RNS today;
Ramsdens Holdings (LON:RFX) - strong Xmas trading, "comfortably ahead of market expectations" for FY 03/2020. Higher gold price helps pawnbrokers.
Greggs (LON:GRG) - exceptionally good year. FY u/l profit "slightly higher" than previous (already raised) expectations. Tough comparatives from now on. Cost inflation - wages & pork. Popularity of new vegan products. A remarkable success story, priced accordingly (PER of 26!)
MPAC (LON:MPAC) - trading ahead of upgraded forecasts
(all 3 of these companies are covered in more detail below)
---
Share price: 249p (up 6% today, at 08:52) 
No. shares:  30.8m
Market cap:  £76.7m
Background - Graham normally covers this one, but I'm trying to broaden my coverage a bit as a 2020 aim, so I'll have a go at interpreting this. It's a pawnbroker, with additional focus on other financial services, especially forex. Today's update is for the FY 03/2020.
Stockopedia likes it, with "Super Stock" classification, and a very high StockRank (before today's update);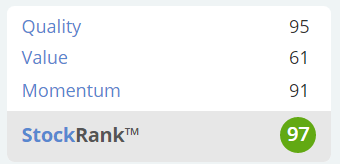 One of the things I like about the StockRank system, is that it picks up on companies with improving trends, which we might otherwise miss, e.g. in this case note the steadily rising earnings forecasts;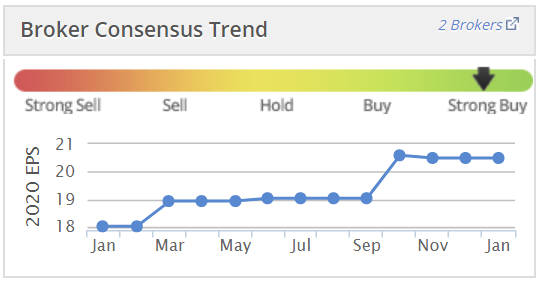 Anyone who was buying companies with earnings upgrades in the autumn, whilst all the political shenanigans was keeping many other people on the sidelines through fear, will have done spectacularly well in the last couple of months, as money has flooded…

Unlock the rest of this article with a 14 day trial
Already have an account?
Login here