Small Cap Value Report (Wed 8 Mar 2023) - RTN, SOM, CTO, HEAD, BUMP, MMAG
Good morning from Paul & Graham!
---
Explanatory notes -
A quick reminder that we don't recommend any stocks. We aim to review trading updates & results of the day and offer our opinions on them as possible candidates for further research if they interest you. Our opinions will sometimes turn out to be right, and sometimes wrong, because it's anybody's guess what direction market sentiment will take & nobody can predict the future with certainty. We are analysing the company fundamentals, not trying to predict market sentiment.

We stick to companies that have issued news on the day, with market caps up to about £700m. We avoid the smallest, and most speculative companies, and also avoid a few specialist sectors (e.g. natural resources, pharma/biotech).
A key assumption is that readers DYOR (do your own research), and make your own investment decisions. Reader comments are welcomed - please be civil, rational, and include the company name/ticker, otherwise people won't necessarily know what company you are referring to.
---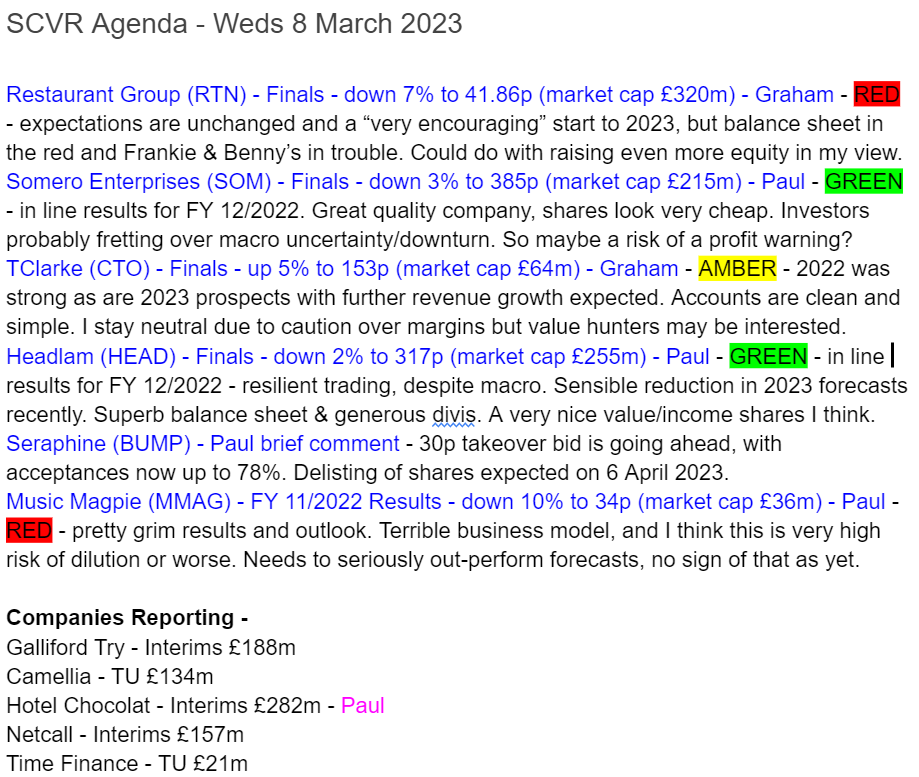 ---
Paul's Section:
385p (down 3%)
Market cap £215m
Somero sells & supports laser-guided concrete screeding machines, to lay perfectly flat floors, for use mainly in warehouses.
Finncap says these results are in line with expectations.
Revenue of $133.6m - matching the outstanding performance of the prior year.
Profit before tax fell to $40.8m, down 9%, due to higher overheads (already known) - note the very high profit margin.
Adj diluted EPS $0.55 (down from $0.61 prior year) - converts into sterling at £1 = $1.183 to 46.5p = PER of only 8.3x which looks strikingly cheap to me, for a high quality business generating a high profit margin, and copious cashflows.
Dividends - are generous, with the ordinary divi $0.2778, and a supplemental divi of $0.077. The StockReport is showing a forecast yield of 7.4%, which is clearly very attractive.
Buybacks have also been done, reducing the share count slightly.
Outlook - there's more detail, but this is the key part -
…With all factors considered, 2023 revenues are expected to be comparable with 2022, and with targeted added resources 2023 EBITDA is expected to be down modestly from 2022, and with 2023 working capital investment expected to remain…

Unlock the rest of this article with a 14 day trial
Already have an account?
Login here