Small Cap Value Report (Wed 9 May 2018) - VTU, GRG
Good morning, it's Paul here.
Apologies, I forgot to put the placeholder article last night.
It looks quiet for news today.
Share price: 49.9p (unchanged today, at 10:26)
No. shares: 379.3m
Market cap: £189.3m
(I do not currently hold any position in this share)
Vertu Motors plc, the UK automotive retailer with a network of 120 sales and aftersales outlets across the UK, announces its audited results for the year ended 28 February 2018 ("the Period"). 
This is a share that I've previously held, but ditched them in the market wobbles earlier this year. No particular reason, other than that something had to go, in order to de-gear. That's looking like a mistake now, as the share price has bounced back decently in the last month.
It's interesting to note how this share has traded in quite a tight range for most of the last 2 years.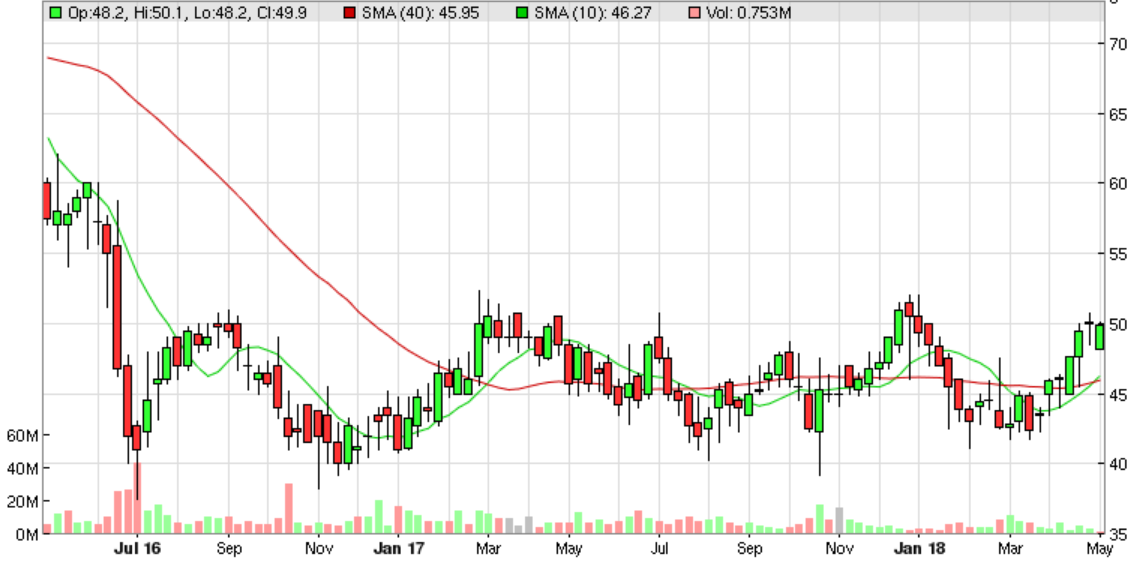 It has been paying reasonable divis along the way though. The yield is 3% at the moment.
I wonder if the boffins at Stockopedia HQ could work out a way to show share price charts with dividends included? That would give a better indication of the total shareholder returns - capital gains and income. Share buybacks might complicate things though.
Today's results highlights section neatly encapsulates the main points, so here it is copied, to save me some typing;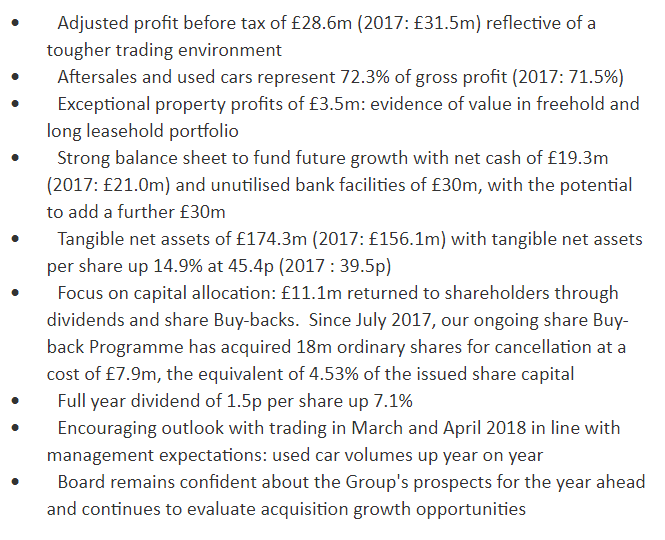 Balance sheet - 
NAV:  £264.4m,  which includes £95.7m intangible assets, deducting those gives;
NTAV:  £168.7m.  The company's highlights section above says that NTAV is £174.3m, which is £5.6m higher than my calculation. I can't see any item of that amount which would reconcile the two, so it's an unknown difference.
Current ratio:  car dealers are unusual in that they have massive working capital, which usually nets off to about zero. The businesses are essentially funded by the vehicle manufacturers, and other trade creditors.
In this case, current assets are a huge £666.4m (mostly inventories - i.e. cars in stock), and current liabilities are also huge, at £679.5m. These are such large numbers, that the net cash balance of £19.3m is fairly trivial. Providing car manufacturers continue offering credit, then…

Unlock the rest of this Article in 15 seconds
Already have an account?
Login here