**NEW VERSION** - Small Cap Value Report (10 Jun 2015) - DIA, OPM, SHOE, BOO
Apologies, the original report got corrupted, so I'm recreating it from a backup.
I've got loads of companies to report on today, so quite a full report today.
---
Share price: 477p (down 36% today)
No. shares: 32.5m
Market Cap: £155.0m
Profit warning - and it's quite a nasty one too, the key parts saying: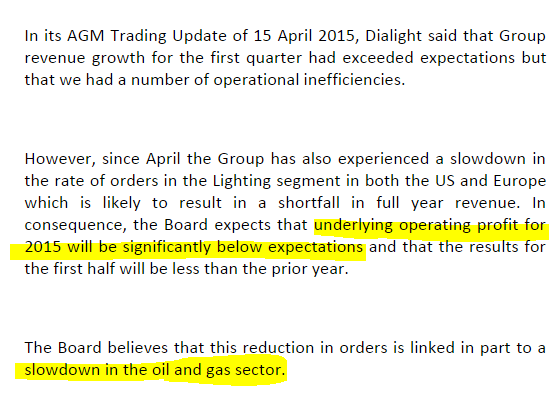 The warning signs were very evident in the last trading update in April, indeed I predicted that another profit warning could be on the way, in my report of 15 Apr 2015.
It's interesting how the fall-out from the lower oil price is triggering profit warnings in other sectors. So any company with material sales to the oil & gas sector is likely to be suffering to some extent.
Today's update also says that the new CEO is conducting a strategic review, which usually means closure of factories & offices, redundancies - all of which are usually costly.
My opinion - the sheen has very much come off this share, and it's almost impossible to value at this stage. I shall await broker updates. It sounds to me, from today's and April's updates, that this company is a can of worms, with possibly more bad news to come out.
The new CEO is likely to kitchen-sink things at some point, so I'd rather sit on the sidelines until everything has come out in the wash.
On the positive side, the balance sheet looks fine to me, so I don't see any solvency concerns, and it sounds as if the company will remain profitable, albeit at a lower level. This share is unlikely to regain a high PER any time soon though, it looks permanently damaged now, after being a previous stock market darling.
Note that Matt Earl, a talented analyst & short seller, wrote a piece on his blog in Dec 2014 predicting further problems for Dialight. People may not like it when short sellers flag up problems (or potential problems) in shares they hold, but to ignore such concerns is folly, and very often a costly mistake. In my view, Matt is one of the best shorters in the UK, because he publishes detailed financial analysis to back up his view, rather than just trying to spread fear…

Unlock the rest of this Article in 15 seconds