Small Cap Report (7 Feb) - TRI, UTW, DSG, MTEC, AVON, INL, CAP
Trifast (LON:TRI) presented at a Mello Central event hosted by FinnCap last year, and I wasn't impressed. It seemed to me that this was another example of a company run mostly for the benefit of its Directors - who are drawing fairly hefty salaries, leaving little in profits or dividends for shareholders. It's a low margin business anyway, making industrial fastenings, which can be made anywhere wages are low.
However, they seem to be making progress, as their IMS & Trading update today reports that profits are on track to meet market expectations for year-ending 31 Mar 2013. Forecasts indicate an increase from about 3.1p EPS to 4.7p, a useful increase that seems to have been driven by a sensible focus on higher margin work, rather than chasing low margin turnover for the sake of it.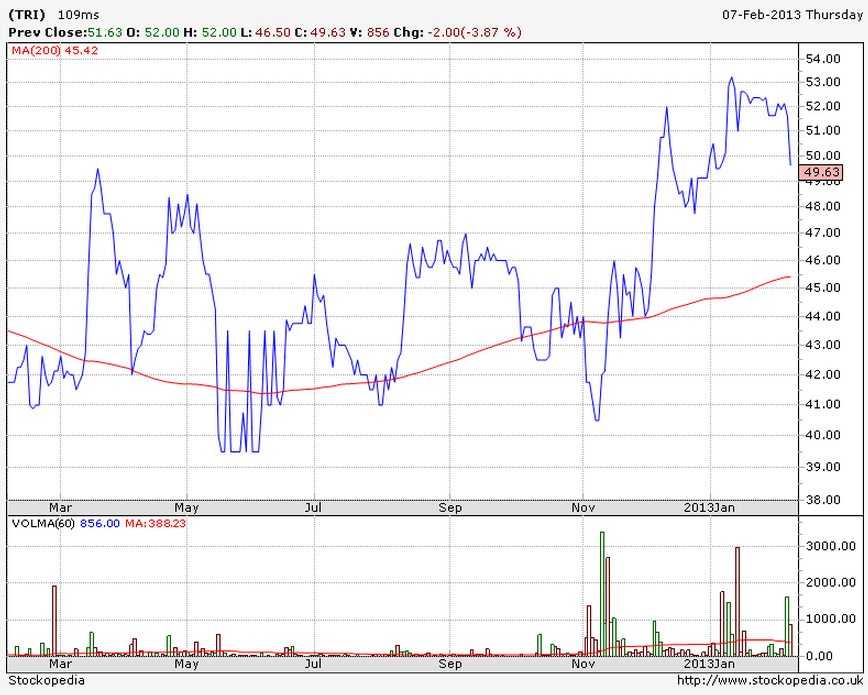 The shares are currently 52p, so that puts them on a current year forecast PER of 11, which doesn't look good value to me for a low margin, low growth company. Particularly when they also have a fair bit of debt too, which was last reported at £7.7m at 30 Sep 2012. Their balance sheet overall looks alright, but Stock is perhaps rather too high, which suggests to me they are required to maintain quite high stock levels in order to meet customer orders. All very well, but the cost of doing so eats up over 10% of operating profit in interest charges from the Bank.
I just can't get excited about the business, its prospects, or the valuation. If there was a 5%+ dividend yield I might look again, but the forecast yield is only 1.5%. So this one gets a thumbs down from me, there are much better companies out there on cheaper ratings in my opinion.
Today's trading statement from Utilitywise (LON:UTW) looks interesting. They are a utility bills consultancy, a sector which interests me because I've used a similar consultant before, and they are very good - negotiating useful savings on energy bills for SMEs, which is often too complicated to do yourself (as the tariffs are so confusing, and sales people from the energy companies make contradictory claims, so it needs a specialist to unpick the facts from the…

Unlock the rest of this Article in 15 seconds
Already have an account?
Login here