Small Cap Value Report (1 Sep 2014) - SEE, VTU, HSP
Good morning!
Share price: 6p
No. shares: 822.2m
Market Cap: £49.3m
This company is Australian, Listed on AIM, that is a world leader in equipment which detects driver fatigue, by interpreting facial movements & eyeball tracking. The product works, and is being sold in the mining sector, so it's a growth company, rather than blue sky.
An unexpected change in strategy occurred late last year, when a Placing was increased to several times the original amount, and an accelerated business plan adopted, involving considerably increasing the overheads to go after new markets. Personally I think that is the right strategy - i.e. if you have developed a product which works, then grabbing the opportunity with both hands seems to me only logical. However, opinion is divided over this, with some investors taking the view that the shares have become much more speculative than what they originally signed up for.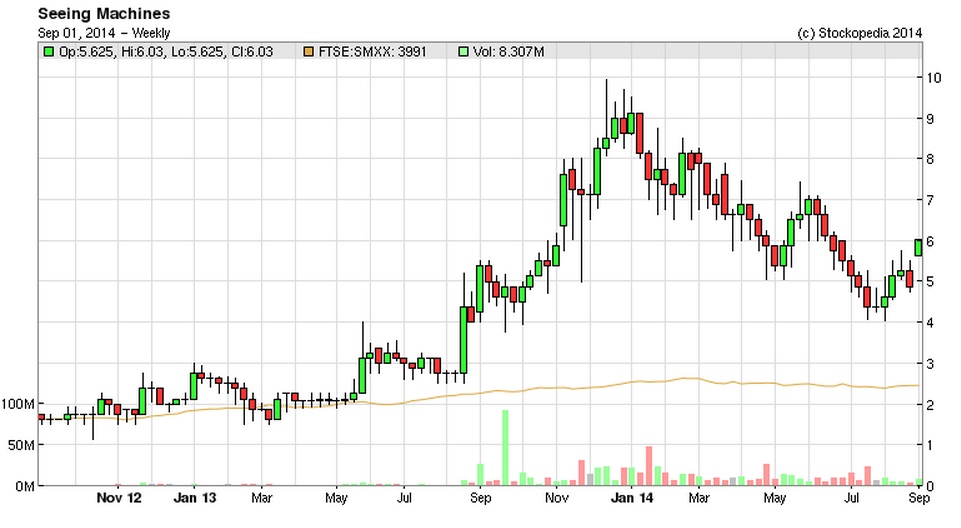 So it's loss-making now due to the increased overheads, making the shares more speculative than when it was a smaller company in the mining sector niche only. As with most speculative companies, the market needs a regular fix of updates, otherwise people tend to get bored and drift away - so the share price tends to decline in the absence of decent newsflow.
In my last report about SEE on 8 Aug 2014, I stuck my neck out & said that the shares could have bottomed out at 4.25p. I was right, and buying back in at that level has turned out to be a good trade.
Today's news - is a 15-year alliance signed by SEE with Takata, a Japanese safety products maker (seatbelts, airbags, etc) with sales of about £3bn p.a., so a reasonable sized partner to be involved with. This is an interesting point from today's RNS;
The formalisation of the strategic alliance is a result of a joint belief that driver-monitoring systems are one of the next major innovations in automotive safety due to the myriad of in-vehicle infotainment and mobile devices, which all compete for the driver's limited attention. According to the National Highway Traffic Safety Administration, one of every ten fatal crashes in the U.S. involves distraction
Although no financial details are given, this certainly sounds the most encouraging piece of news from SEE for quite a while;
The strategic alliance is responding to potential product…

Unlock the rest of this article with a 14 day trial
Already have an account?
Login here