Small Cap Value Report (12 Jan 2017 - Part 2) - SDM, STM, GYM, PMO, SGP
Good morning everyone,

It's busy today in RNS-land. I intend to cover the stocks mentioned in the title above.
Paul's article can be found here, covering AO World (LON:AO.), JD Sports Fashion (LON:JD.), Debenhams (LON:DEB), Moss Bros (LON:MOSB), Mothercare (LON:MTC) and Robinson (LON:RBN).
---
Stadium (LON:SDM)
Share price: 84.5p (+3%)
No. shares: 38.2m
Market cap: £32m

Trading Update, Acquisition and Notice of Results

The bottom line is that trading for 2016 was "broadly in line with market expectations".
The order book has seen "significant" year-on-year growth, and net debt was £3.5 million.
There is also news of a small-ish acquisition (£0.75 million in cash). Sounds fine.
My opinion:

This update probably won't change anybody's mind on the attractiveness or otherwise of the company.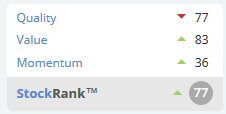 The higher-margin technology division is growing at a slightly faster rate than the rest of the business, bank debt is manageable, and profitability is on a decent trend. So plenty of reasons to take a look at it, along with a healthy Stockrank!
---
STM (LON:STM)
Share price: 43.5p (+14%)
No. shares: 59.4m
Market cap: £26m

Another "in-line" trading update (generally, I will cover trading updates more briefly than results statements, especially when they are in-line).

The Board is pleased to announce that the Group has traded in line with market expectations of profit before tax of £2.7 million for 2016 (2015 actual: £2.7 million).

Kudos to the company for quantifying market expectations in this announcement, rather than inviting readers to look it up somewhere else.

Some positive sounds that growth might ramp up in future years, after the flat result in 2017:

As was anticipated, the pricing initiative taken by the Board in the earlier part of the year has significantly increased the take-on of new business for its QROPS international pensions product with new policies for the second half of the year up by circa 50 per cent on the first half of the year and 27 per cent on the second half of…

Unlock the rest of this Article in 15 seconds
Already have an account?
Login here