Small Cap Value Report (16 Dec 2016) - BILB, TNI, UCG, FUL, SEPU
Good morning,
Paul is away today, so I'm holding the fort here!
---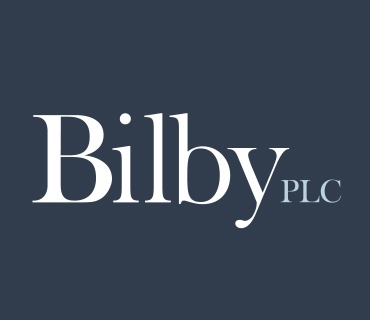 Bilby
(LON:BILB)
Share price: 42.5p (-10%)
No. shares: 39.7m
Market cap: £18.7m
Interim Results (for the six months to 30 September 2016)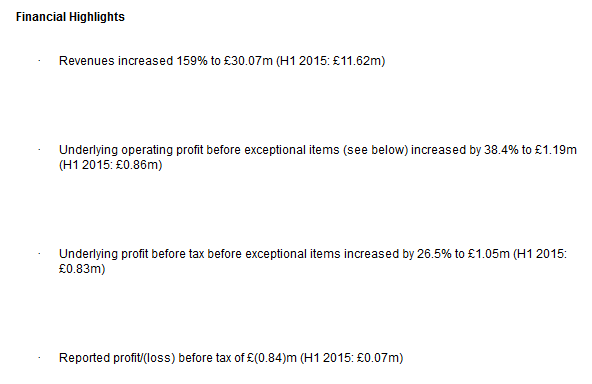 Comparisons with last year are somewhat pointless, since Bilby has been transformed by two acquisitions for aggregate consideration of £12.7 million.
There are positive noises on this front:
Both acquired businesses have been successfully integrated, met their initial earn-out performance conditions and, along with Purdy, have continued to trade ahead of expectations.

The shares are still down by about 70% year-to-date, however, as investor confidence was knocked by the loss of a local authority customer.

As previously announced, a long-standing and major public sector customer of the Group changed the processes by which it manages its outsourced building services work. This has resulted in significant work being taken in house by the customer. This situation has not changed and, combined with commencement delays to other contracts and slower than anticipated revenues from the SEC and Fusion frameworks, will further impact revenues and profitability for the full year.

That major customer loss resulted in a reduction in EBITDA forecasts for this year of c. 25%, and the above paragraph doesn't suggest that there is going to be any form of consolation in terms of this year's performance.
As a service provider to the public sector housing market (gas heating, electrical  and general building services), Bilby has obvious similarities to Lakehouse (LON:LAKE), another recent flotation which has perplexed investors!
Restatement: I am finding Bilby quite perplexing, too.

The 2016 accounts have been restated to show PBT of £0.7 million rather than £1.4 million, caused by a disputed invoice and also:

£556,000 understatement of subcontractor costs due to changes in the terms of trade with subcontractors and a delay in subcontractor costs. The adjustment was made to cost of sales and trade and other payables.

Material restatements are one of those things which tend to have a disproportionate impact on valuation, and combined with the company's apparent vulnerability to the loss of a single customer, I am not surprised to see investor sentiment so low here.
The balance sheet is in negative tangible net equity. £16.7 million…

Unlock the rest of this article with a 14 day trial
Already have an account?
Login here