Small Cap Value Report (16 Jan 2015) - DIA, CCT, IPEL, BJU, GOAL, MNZS
Good morning! Plenty of trading updates today, so I'll rattle through as many as possible before my head turns to mush, which usually happens by about lunchtime!
Share price: 789p
No. shares: 32.5m
Market Cap: £256.4m
I've looked at this industrial LED lighting company before, and generally considered it too expensive. Although checking back, my article of 24 Feb 2014 gave a useful recap, and flagged that the company seemed to be stabilising after a period of missing growth forecasts.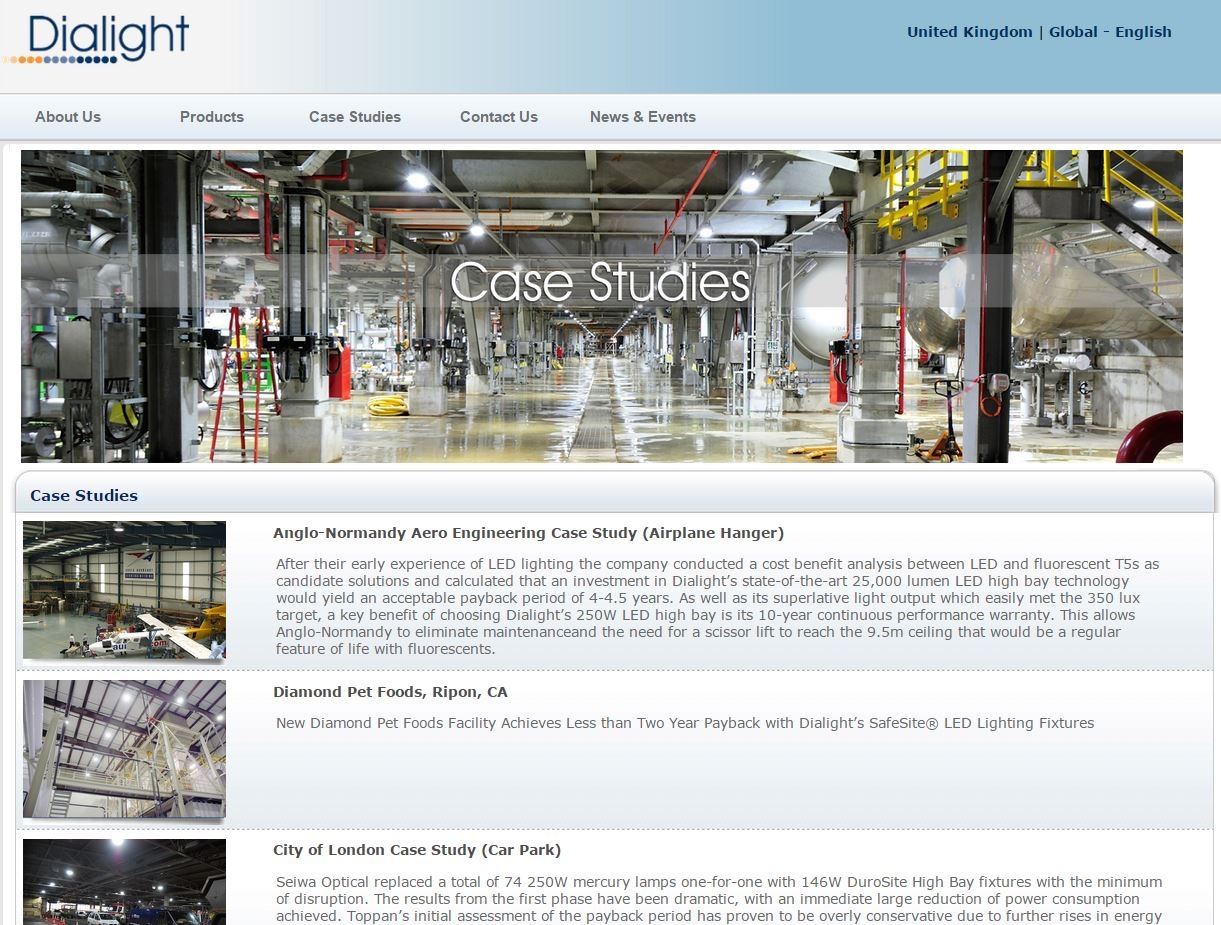 The company is a maker of industrial LED lighting, so the picture on the right from their website gives a flavour for the products (click to go through to their website).
It's obvious that the potential markets for these industrial lighting products are vast, and global. Although no doubt there will be many competitors attacking the same markets.
The shares did very well in the rapid growth phase, although (as is so often the case) the moment growth faltered, the shares fell sharply, roughly halving in price from the peak. This is the double whammy of a growth company not meeting forecasts - not only are forecasts lowered, but the market also de-rates the shares onto a lower PER. Combine the two, and you can easily see a 50% drop in share price in a day or two.
Trading update - the growth rates given in today's trading update have certainly made me sit up and take notice;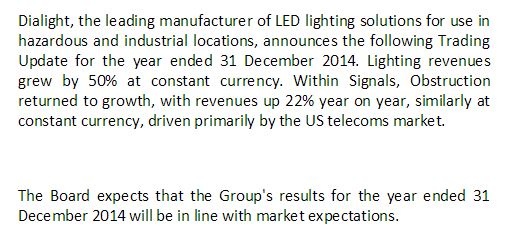 Lighting is the biggest division, so achieving 50% growth there is really very good. Presumably that growth rate will reduce a bit once converted into sterling, but even so. No mention is made of margins. I note from the last interims that profit growth was slower than sales growth, which implies that gross margins fell - so no doubt there are competitive pressures involved, but even so these growth rates are very impressive.
Valuation - you can see from the Stockopedia graphical history that the company has been growing very well, but with a bump in the road on profitability in 2013, which harmed the share price at the time.

Broker consensus is for 36.6p EPS for calendar 2014, and we know from today's statement that this has been achieved. So attention now turns to 2015, and broker consensus there is for…

Unlock the rest of this Article in 15 seconds