Small Cap Value Report (2 May 2017 - Part 1) - JE., PPH, ACC
Welcome back after the long weekend!
Paul is also writing a Part 2 article, wherein he is covering:
Regards,
Graham
---
Share price: 560.25p (-3%)
No. shares: 678.9m
Market cap: £3,804m
A reader took issue with me last week describing this as having a "nosebleed valuation"!
I accept that description may have been a little harsh, as today's 40% like-for-like growth numbers reinforce the case for a premium rating.
It's also quite pleasing to see revenue growth outstripping customer order growth - to me, that suggests increasing comfort/trust with the service, as customers make higher-value orders.
Reported revenues were up 46% to £118.9 million (Q1 2016: £81.5 million).

On a currency neutral, like for like1 basis, revenues grew by 40%...

Total orders of 39.0 million (Q1 2016: 31.5 million), up 25% on a like for like1 basis.
The interim CEO, who is also the CFO, reiterates guidance for the full year.
I still think some nerves would be justified here until the management/Board decisions have been finalised, as it doesn't strike me as a company which would be able to run itself on auto-pilot.
Earnings estimates for 2017 have been stable and if it does achieve estimates through to 2018, then the PE ratio would fall to 25x. So it doesn't need to maintain momentum for all that long to grow into the current market cap.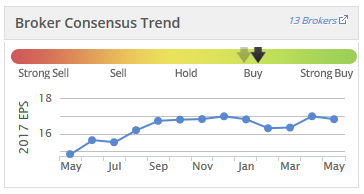 ---
Share price: 783p (+2%)
No. shares: 42.2m
Market cap: £330m
This is a mid-range hotel group with interests in the UK, Netherlands, Germany and Croatia.
The interesting thing about the Park Plaza brand is that it's actually owned by the Carlson Rezidor group, which also owns the Radisson chain. But PPHE has the exclusive territorial license in various countries to develop and operate the hotels.
The latest quarter has gone really well, with help from a hotel expansion, exchange rates and also from a general upturn in the sector:
On a like-for-like basis1, revenue increased by 17.0% to £53.3 million (three months ended 31 March 2016: £45.6 million), driven by a…

Unlock the rest of this Article in 15 seconds
Already have an account?
Login here