Small Cap Value Report (22 Sep 2015) - BOO, RGS, PTD, PTCM
Good morning!
EDIT: apologies, I'm running late today, and just lost two whole sections I'd written but not saved, arrgghh!! So have to recreate that again from scratch.
Quite a nasty day today - I see the FTSE 100 Index (FTSE:UKX) is starting with a 5 again, at the time of writing. It's always worthwhile checking what the other indices are doing, because the FTSE100 is a false comparison for many investors, due to its excessive weighting in resources stocks.
Sure enough, whilst the FTSE100 is down 2.1% today, the Small Caps Index (I use SMXX) is only down 0.5%, and the AIM All Share Index (AXX) is down 0.7%. So whilst the large indices might look bearish, the smaller companies end of the market is doing alright. In particular, look at this comparison of the three indices over the last 6 months, to see the striking under-performance of the resources-laden FTSE100 (the lower, dark blue line), compared with Small Caps and AIM: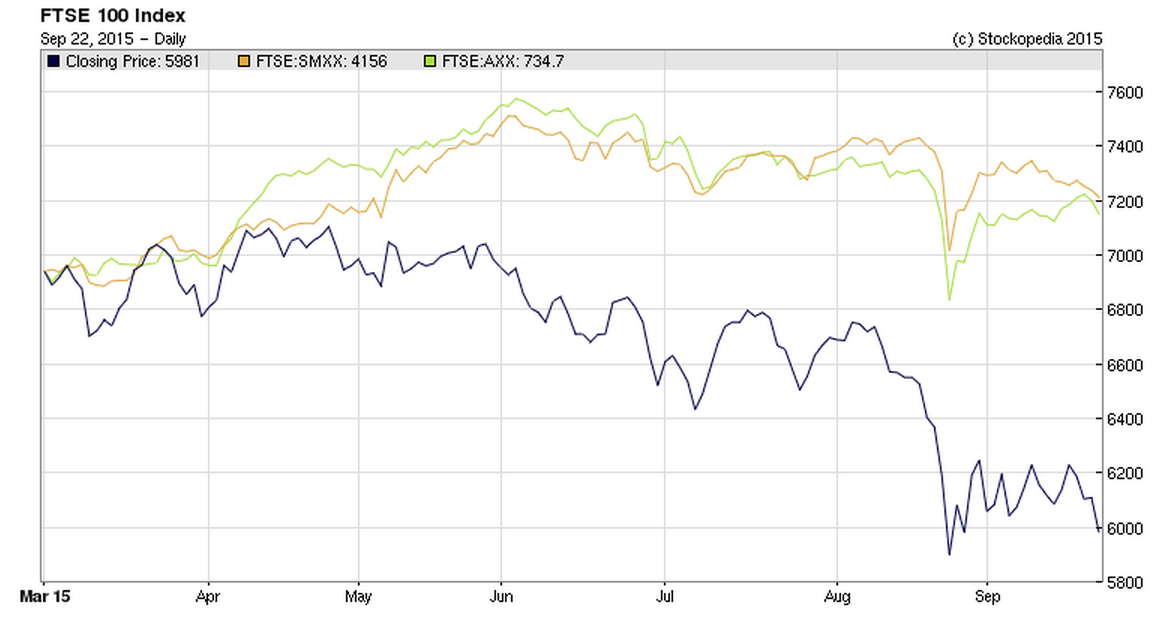 I've no idea what these indices will do in future, but so far anyway, small caps have had little more than a modest correction after a good bull run.
I remain of the view that consumer-related shares are the best area to be in, so I'm generally trying to keep my focus away from industrial or resource-related companies.
---
This is a huge scandal - off the scale - VW has admitted that some of its cars are fitted with a software cheat which recognises when the car is having its emissions checked, and then makes adjustments to improve its emissions temporarily.
Its shares have gone into freefall, down 19% today, at the time of writing. This got me thinking - surely VW won't be the only company to have done this? Are they uniquely devious? I find that difficult to believe. Maybe other companies have been up to the same trick?
So I'm wondering if this might be a good time to whack on a basket of shorts on car maker shares, as there could be more stuff to come out of the metalwork possibly?
---
Share price: 30.5p (down 1% today)
No. shares: 1,123.1m shares
Market cap: £342.5m
(at the time of writing, I hold a long position in this share)
Shorting attack - some readers may…

Unlock the rest of this Article in 15 seconds
Already have an account?
Login here