Small Cap Value Report (25 Mar 2015) - TPT, POS, JPR, BAR, MOSB
Good morning! I caught up with yesterday's SCVR yesterday evening, so here is the link if you haven't already seen it. Apologies for the outage on Mon & earlier on Tue. So I thought we'd get today's report in early. That reminds me of the joke about America being late for two world wars, so they've decided to be really prompt for the next one!
---
Share price: 123p
No. shares: 193.6m
Market Cap: £238.1m
Trading update - this covers the half year to 28 Mar 2015, since the company's next year end is 27 Sep 2015. It only mentions sales, but says nothing about profitability, or trading versus market expectations, so a bit thin on detail.
The top line figure is good though. Sales are up 6.4% to £104m for H1, and LFL* store sales are up an impressive 5.2% - all the more impressive since the 2014 comparative was itself very strong, being 10.2% up on 2013. So very good progress on sales, no doubt about that.
* LFL = like for like - i.e. removing the impact of new stores, and store closures.
Outlook - the company mentions short term uncertainty due to the General Election, but that rising levels of disposable income should help boost home improvement spending. I wonder if there might also be a backlog effect, from people having delayed replacing things like flooring until their personal situation improves?
My opinion - I did buy into Topps a while back, when they were around 90p, but banked my profit at about 115p, when it looked fully valued. The broker forecasts already factor in a considerable increase in earnings, and note from the graphic below that broker forecasts have actually been falling over the last year. That seems a little odd to me.
The light blue lines on the first 3 charts below are obviously broker consensus forecasts, so you can see expectations are already fairly ambitious. There could be more upside for the shares, but the key question really is how much is already baked into the share price?

Note the steady decline in broker forecasts for the company over the last year;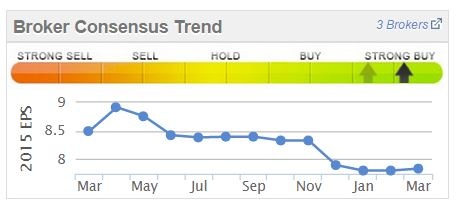 I wonder if this means the company is experiencing strong sales, but might be under some margin pressure? Or that sales increases are being driven by increased marketing…

Unlock the rest of this Article in 15 seconds