Small Cap Value Report (28 April 2017) - KMK, JE., BXP, TRAK, MCON, UPGS
Good morning,
Paul added many sections to yesterday's report which now includes comments on all of the following:
Regards,
Graham
---
Share price: 30.375p (+8.5%)
No. shares: 259m
Market cap: £79m
It's a short update from this radiation detection business for the financial year ending this month.
The Group is making good progress on the delivery of new orders won over the past two years and, as a result, the Company is trading in line with market expectations. 
Such a statement wouldn't normally send shares higher by almost 10%, but it also reiterates that it expects a "step change in revenue growth" in the new financial year.

Though I have expressed scepticism in relation to this company before, the market clearly likes it as the shares are 50% higher compared to when I last covered it in January.
It's targeting EBITDA breakeven this financial year (ending April 2018).
With more than 200 patents it might be worth a look, though from a statistical point of view, not too many companies with these characteristics turn out to be winners: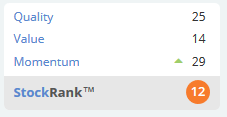 ---
Share price: 575.25p (-1.8%)
No. shares: 678.9m
Market cap: £3,905m
Not a small-cap but of interest to many of us here, the Just Eat Exec Chairman is taking a leave of absence for medical treatment.
He will doubtless receive best wishes from everyone connected to the company.
It's more than a bit unlucky for Just Eat, which lost its CEO in February to "urgent family matters".
Now the CFO is stepping up to be interim CEO, and a senior NED will complete the search for a permanent CEO.
Surely the argument for a nosebleed valuation is all that much harder to make when senior management is in the midst of so much involuntary change? 
---