Small Cap Value Report (28 Jan 2015) - FTC, NWKI, MTEC, STAF
Good morning! This morning's small caps space is dominated by news from three smaller recruitment companies.
---
Share price: 17p
No. shares: 106.9m
Market Cap: £18.2m
Profit warning - not again?! Yes, unfortunately it's yet another profit warning from this maker of telecoms equipment. The investors who stumped up £2.1m in a 22p Placing in Nov 2014 won't be best pleased, one imagines. Repeated disappointments will probably make it more difficult for the company if it needs to raise money again.
The chart looks a bit like a descending staircase, with each step down being a profit warning - so it looks as if there have been five disappointments in the last year;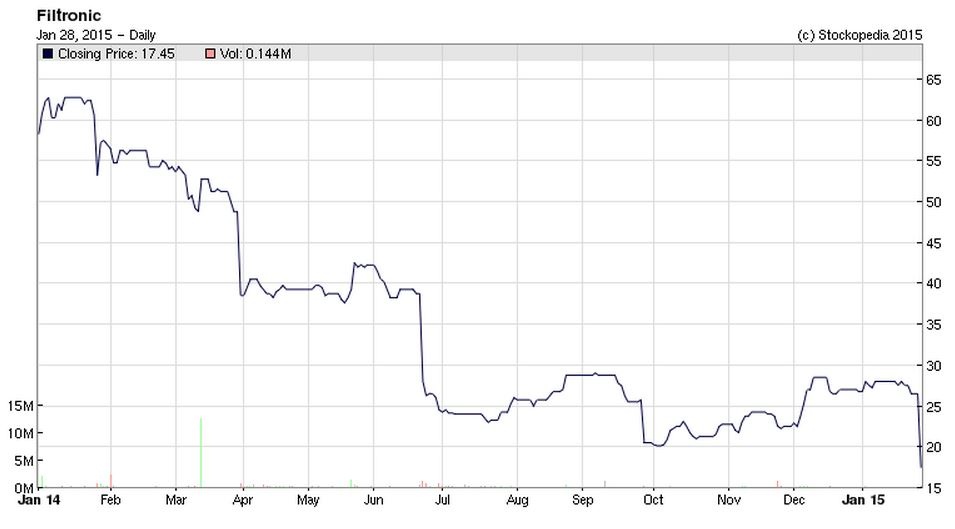 The wireless division has had production delays for a number of new products, so production is starting four months later, plus other contracts have been delayed or orders not received. This has resulted in the company today saying that;
"...results for the Wireless business in the current year will be substantially lower than current market expectations."
This is bad news because, checking back to the last set of full year results (y/e 31 May 2014), the Wireless division is by far the more important of the two divisions, generating 70.4% of group turnover, and all the profit.

Their Broadband division has traded "slightly below the level we had expected", so that's not too bad.
Outlook - the company tries to sound upbeat in its outlook statement today, but given serial disappointments, I'm not sure how much faith can be put in this statement;
"Despite these setbacks, we remain confident in our strategy and the sales growth potential from the qualified OEM products we are supplying and are continuing to develop. This should lead to a much improved trading performance over the medium-term."
My opinion - I've been sceptical about this company for a while now, as it seems so accident-prone. The balance sheet looks OK though, although it was surprising that they needed a £2.1m Placing in Nov 2014.
It's not clear to me that there is a viable business here, based on current performance. However, if the company's confidence in its medium-term prospects turns out to be well-founded, then who knows, the disappointments of the last year could be a buying opportunity?
It's too much of a gamble for me, I'd rather wait until the first positive trading statement, and…

Unlock the rest of this Article in 15 seconds
Already have an account?
Login here