Small Cap Value Report (31 Jul 2017) - SPRP, XPP, FDM, RBG, SRT, UTW
Hi again - it's Graham covering Monday updates.
Not too many names reporting today but I'll start with Sprue Aegis (LON:SPRP), FDM (Holdings) (LON:FDM) and Fidessa (LON:FDSA).
Edit: prioritised XP Power (LON:XPP) instead of Fidessa (LON:FDSA) following a request.

Cheers
---
Share price: 232.5p (-3%)
No. of shares: 45.9 million
Market cap: £107 million
I was a a bit too cautious on this fire alarm manufacturer as the recovery continued and the share price has made great gains.
It's now nearly double the April 2016 low. (The high in 2015 was 350p).
Issues with suppliers and overstocking caused the problems in 2016, and appear to have been dealt with.
As such, the full year result is expected to be in line with expectations.
As announced on 15 June 2017, Sprue has made a positive start to the year and for H1 2017 expects to report sales of approximately £26.0m (H1 2016: £25.9m) and operating profit* of approximately £1.5m (H1 2016: operating loss of £0.9m before share based payments charge). The strong return to profitability has been achieved through a significant improvement in gross margin and a net reduction in overheads. 
Sounds great. The problems did indeed prove to be temporary.
The operating profit figure is a bit misleading, however, as the company routinely adjusts for share based payments. It should stop doing this, in my view (or pay bonuses in cash instead of shares).
Sprue has been investing for the future and remains on track for its longer-term ambitions.
The StockRank is 74, thanks to good contributions from Quality and Momentum.
Value is a bit thinner and indeed I'd argue that the positive EPS Growth and low (cheap) PEG ratio below don't help, as last year's results were artificially lower (based on one-off problems).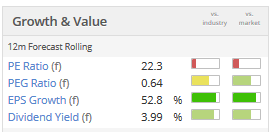 If you trust the company, it could still be worth paying up for, of course. Maybe it's a QARP stock (quality at a reasonable price)?

---

Unlock the rest of this Article in 15 seconds
Already have an account?
Login here