Small Cap Value Report (7 May 2015) - SCS, PPS, TNI, GHT, HMLH
Good morning!
General Election day today. The bookies are saying that a minority Labour Govt is the most likely result, with the second most likely outcome being another Con-LD coalition, The market would obviously very much prefer the latter, rather than a lame duck Labour Govt which would be dependent on the SNP, whether they like it or not.
This shift in voting by the Scots towards the SNP is surely the most significant factor in this election, and it is likely to change everything - Scots MPs holding the balance of power semi-permanently, and thus having excessive influence/control over the whole of the UK, is not something that English voters are likely to tolerate for long.
Anyway, we're likely to see low market volumes today, and probably continuing until it becomes clear what the next Govt will look like. Longer term, it won't really matter, as these things always sort themselves out, and there's not really that much difference between the current crop of sub-standard politicians - it's not like the 1980s where you had an ideological & practical gulf between the two main parties.
---
SCS (LON:SCS)
Share price: 160p (down 27% today)
No. shares: 40.0m
Market Cap: £64.0m
Trading update - this sofa & carpets retailer, which recently re-floated on the stock market, after a period in private ownership (after it went bust during the credit crunch), has put out what looks like a profit warning this morning;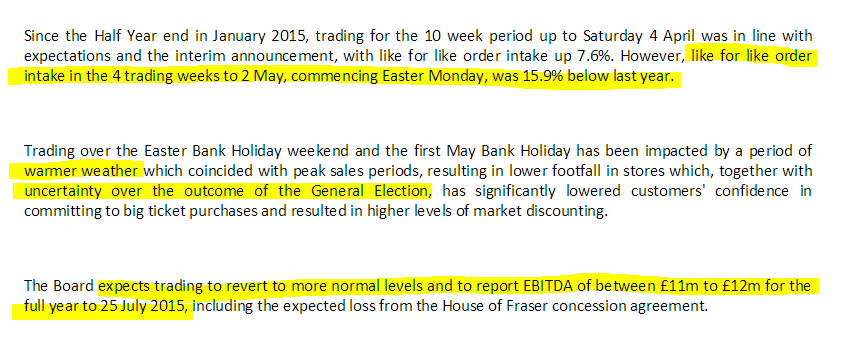 In particular note the big fall in LFL sales in the last four weeks - down 15.9%, ouch. That's bound to hurt the bottom line quite badly.
The company should win a prize for not only managing to blame the weather, but also the General Election, in the same paragraph. Personally I'm sceptical about whether the Election would really make people defer the purchase of a sofa. A house maybe, but not a sofa. Particularly given the high level of voter apathy about this election, so these sound like excuses to me.
Valuation - the company mentions £11-12m EBITDA for this year, but doesn't say how this compares with market expectations. Stockopedia shows broker forecast net profit of £7.6m for this year. So it would be necessary to work through the numbers to make a comparison.
The shares have opened down 15% today, which looks sensible for a soft period of trading.
EDIT: they've fallen a…

Unlock the rest of this article with a 14 day trial
Already have an account?
Login here