Small Cap Value Report (Fri 10 Nov 2017) - CGS, VLX, IQE
Good morning!

This is the placeholder article, published the night before, to enable early comments and suggestions from readers.
Best,
Graham
---
Paul has interviewed the CEO and CFO of Tracsis (LON:TRCS) on his personal website. following the publication of their 2017 results. It's available at this link.

---
Share price: 435p (-5.4%)
No. of shares: 43.6 million
Market cap: £190 million
Checking my notes on this industrial group, I've generally made positive noises on it over the past year, while the market cap has been c. £200 million. Sadly, the outlook has been gradually deteriorating - see how the consensus 2018 EPS forecast has reduced from 35p to less than 30p: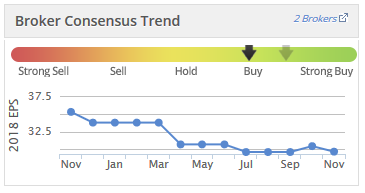 The group has two parts - casting and machining. The machining plant came to the conclusion of a large contract about a year ago, resulting in a lot of excess capacity which needed to be filled again.
This part of the business has failed to recover yet, as today it reports a loss of £1 million (compared to a profit of £0.8 million in the previous year).
If I've interpreted this correctly, it would have achieved breakeven were it not for some one-off costs which have been included in the result:
Following a detailed review of the operation, additional short-term costs have been identified and included in the result for the period. The main areas impacted are stock obsolescence and the recoverability of tooling costs which, when taken with the director severance cost, have reduced group profits by £1.0 million.
The company is straightforward enough not to use any adjusted or underlying measures in these results (something I like about it). That said, perhaps we should bear in mind that stock obsolescence, etc. are somewhat unusual and that without those costs, it would have been approximately breakeven in this side of the business? The lack of an MD remains a serious concern, however.

The foundry part of the business performed fine, revenues up 8% and profit up 10.5% to £6.9 million.
Outlook
I'm a little disappointed with this, as they could have explicitly said that the outlook is now lower than prior expectations. Instead, it is implied:
Demand from our commercial vehicle customer base remains…

Unlock the rest of this Article in 15 seconds
Already have an account?
Login here