Small Cap Value Report (Fri 18 Jan 2019) - REC, BOOT, MGR, CCT
Good morning!
The RNS is thin today. I have covered:
---
Share price: 28.65p (-9.5%)
No. of shares: 199 million
Market cap: £57 million
(Please note that I currently own REC shares.)

This is a niche currency manager, founded by Neil Record.
I covered it during my reflections on 2018, describing it as a mistake and explaining that in hindsight I gave too much weight to its strong balance sheet when I invested in it, and did not give enough weight to its competitive positioning and growth prospects.
The difficult competitive environment continues to make life tough for Record. Performance isn't going anywhere at present, with "assets under management equivalent" (AUME) falling by 4% when expressed in Sterling.
$1.1 billion of client withdrawals were made in the quarter (out of a starting pot of $61.8 billion), and there are another $1.7 billion of withdrawals where clients have notified Record in advance. So maybe the withdrawals will amount to 4%-5% of starting funds over the course of H2.
On the other hand, the reduction in AUME that is attributable to stock market and exchange rate movements doesn't bother me, since it is unavoidable. It's the poor trend in client flows that is more of a worry.
Fee rates are "broadly unchanged" - the company has ongoing pressure on fees from rival currency managers.
On the positive side, the balance sheet probably remains as strong as ever - net assets of £25 million as of September 2018.
And the CEO continues to talk up the possibility of rolling out new products and services. I remain hopeful that they will succeed.
It has been a close decision in terms of whether or not to sell out of this position. Most people would sell, but I tend to hold on to things for as long as I possibly can.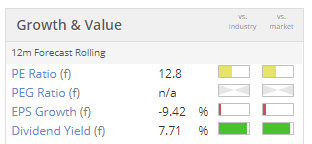 ---
Share price: 254p (+1.6%)
No. of shares: 133 million
Market cap: £338 million
This property developer has traded in line with expectations.
It…

Unlock this Article with a 14 day free trial
Already have an account?
Login here