Small Cap Value Report (Fri 22 Feb 2019) - Ryanair how-to guide, FLYB, MERL, NSF/PFG
Good morning!
Today would be a good choice for a duvet day given the lack of news flow, but I will keep the show on the road.
---
Did anybody notice that Ryanair Holdings (LON:RYA) was fined €3 million by the Italian authorities?
As a frequent flyer and occasional Ryanair customer, it's nice to have a moan about it sometimes.
For context though, I do celebrate the era of cheap air fares which was created and sustained by Michael O'Leary. While it doesn't happen as frequently as it used to, I still fly with Ryanair from time to time, when their offer is too good to pass up.
Indeed, last month they brought me and my lady to Athens for a bargain price - no complaints about that at all!
But where they let themselves down a little bit is that they have turned the booking process into an IQ test and a test of your nerves. Booking a flight is now a game in which they try to tempt you and trick you into buying things you don't necessarily want, and you try to spend as little as possible without making your flight experience completely miserable.
For example, this is what I was greeted with when I put a dummy flight into their system this morning, and clicked on an offer advertised as "from €19.99".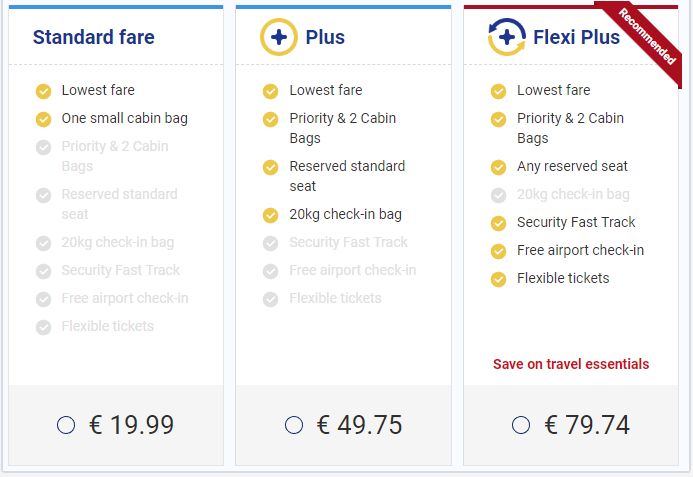 Hmm. This is less attractive than it seemed at first glance!
If I spend €19.99, then I get the "lowest fare" but it looks like I only get to bring "one small cabin bag" on board. How is that going to be appropriate for an international flight?
On the other hand, do I want Priority & 2 Cabin Bags and a 20kg check-in bag, and a reserved seat with the Plus option? Not really.
The way to beat them is to bravely click the cheap Standard Fare option for both the outbound and return flights, then Continue.
On the next page, Ryanair will give you the option you really wanted: the 10kg cabin bag. It's cheap and it comes with priority boarding for €10.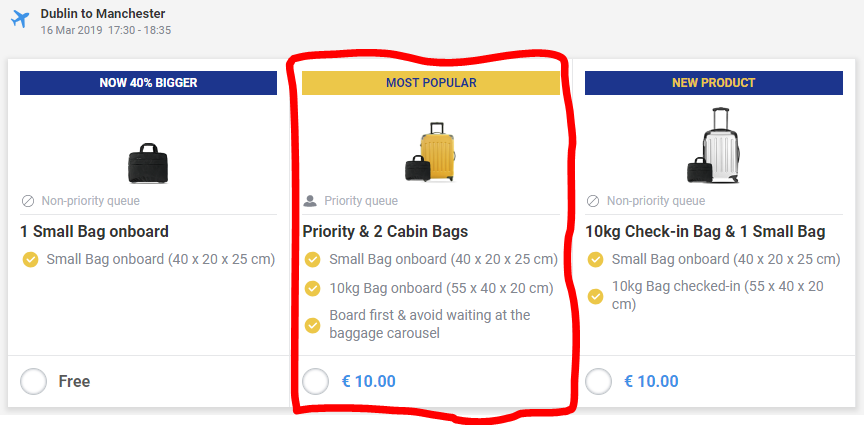 After insisting that you don't want to pay to reserve a…

Unlock the rest of this Article in 15 seconds
Already have an account?
Login here