Small Cap Value Report (Fri 27 Oct 2017) - SYS1, PHO, ATQT
Good evening! This is the placeholder article for tomorrow morning.
The idea is that we have an article up ready for the 7am RNS, with trading updates & results statements being the focus of the SCVRs, as usual. So readers can post any comments you wish, about the day's small caps RNSs, preferably with as much information & views as possible. We've had some absolutely smashing posts here recently from readers, which are very much welcomed. As I always say, investing is a team sport!
(I don't cover any resource sector stocks, nor blue sky, biotech, financials, property or investment trusts, etc. But I do cover about 600 other UK small caps, which is most of the rest of the small caps universe. Usual market caps we cover here are from £10m up to about £400m. We sometimes break those rules, if something topical & interesting comes up).
See you in the morning.
---
Good morning, it's Paul here!
Thank you for the reader comments. It's particularly helpful when people post a summary & their own views of results or trading updates. I especially like MrC's daily snapshot, so thanks for that.
There are two sharp fallers today, so I'll start with them.
Share price: 391.4p (down 24.4% today)
No. shares: 12.5m
Market cap: £48.9m
Interim results - for the 6 months to 30 Sep 2017. The company calls itself;
the pioneering marketing services group
I'm refreshing my memory by going back through our archive. Graham covered the profit warning here on 18 Aug 2017 As you can see from the chart, that hit the share price hard. The company indicated that revenue visibility was poor, and that H1 would be "a little over break-even".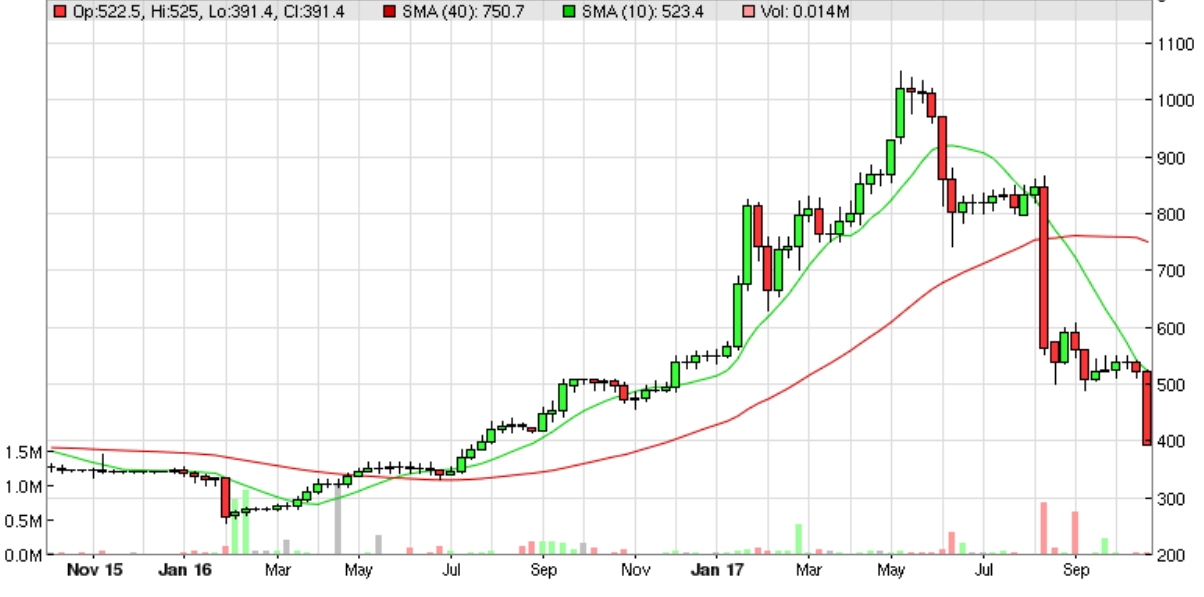 Graham called it absolutely spot-on in August, concluding that the share remained over-priced.
Graham wrote another article about the company's more recent trading update, here on 16 Oct 2017. Again he got it spot-on, concluding that the share looked "Vulnerable to a further de-rating".
Moving on to today's results, H1 produced profit before tax of £0.85m (down from £2.79 in H1 last year). Obviously that's a poor performance, but it's slightly above the £0.8m which was indicated in the last trading update. So the H1 figures don't seem to…

Finish reading with a 14 day trial
Already have an account?
Login here