Small Cap Value Report (Fri 3 Jan 2020) - NXT, JSG, MBT
Good morning, it's Paul here.
To get you started today, here is the link to yesterday's completed report, which turned out to be a bit of a monster, taking me until 21:30 to finish. It's a review of everything I currently hold personally. That completes my series of end of year reviews, which seem to have gone down really well with subscribers here, judging by the positive comments & high number of thumbs ups - much appreciated. It really makes a difference to the writers here, if we get decent feedback.
Today I'll be reviewing trading updates from;
Next (LON:NXT)
Johnson Service (LON:JSG)
Mobile Tornado (LON:MBT)
Estimated time of completion today is 1pm, as there's not much to report on, so that time shouldn't slip.
---
Next (LON:NXT)
Share price:  6954p (flat on the day at 09:01)
No. shares:  133.2m
Market cap:  £9,262.7m
Fashion retailer Next has had a decent Christmas, as expected. The summary says it all;

An unusual feature of Next is that it buys back its own shares with surplus cashflow each year. This is driving up EPS. Note from the StockReport (average no. shares in issue) this was 155.6m in 2014, and had fallen considerably to 133.2m now.
The chart below shows how Q4 to date (it's a 01/2020 FY) has been the best quarter of this financial year - helped by colder weather in November, and better stock availability;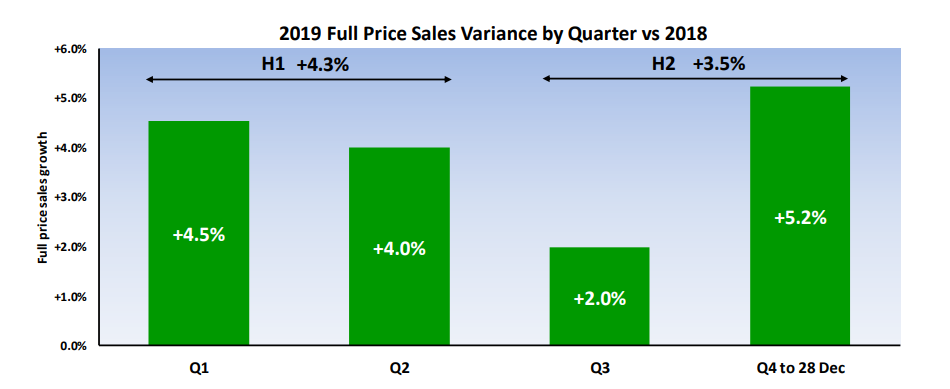 Valuation - latest guidance from the company is for 458.7p EPS this year, rising 3.5% in the following year (implying 474.8p). Taking the new year estimate of 474.8p, and dividing it into the current share price of 6954p, gives a PER of 14.6 - which looks about right to me, since EPS growth is quite pedestrian and mainly driven by buybacks.
My opinion - both Graham and I have been long-term bulls on this share, because it has managed to offset declining High Street business with a very successful internet operation.
I think the re-rating in the last year has been fully justified, but I'm not…

Unlock the rest of this article with a 14 day trial
Already have an account?
Login here