Small Cap Value Report (Fri 3 Nov 2017) - IPOs, HAT, SOS, FOOT
Good morning, it's Paul here!
Here is the (now usual) placeholder article for readers to discuss the morning's trading updates & results statements, from 7am.
By the way, please see the header for the stocks I am intending to write about today. Yesterday's article fizzled out, so I shall be revisiting that this afternoon, to finish it off.
---
Share price: 333p (pre market open)
No. shares: 37.3m
Market cap: £124.2m
Trading update - this is a pawnbroker chain of stores. Graham is keen on this one, and often covers it. Things are going well;
H&T is pleased to announce that the strong trading performance of the first half of the year has been maintained. The gold price has also remained broadly in line with the first half which benefits the Group's pawnbroking scrap and gold purchasing segments.

As a result, we expect that our full year profit before tax will be above current market expectations.
The CEO says that he's confident about the future outlook.
It's a pity that the company has failed to explain by how much it is exceeding current market expectations. Plenty of other companies report specifics, by giving their own projection for full year profit - so this really needs to become standard.
Instead we have to play the silly game whereby the company will brief analysts on the numbers, who then publish updated forecasts which many private investors can't get hold of. An utterly crazy system, badly in need of reform. Companies can & should be pushing for more openness, so that all shareholders are made aware of the numbers, not just institutions & professional investors.
Valuation - based on the existing forecasts, the valuation looks quite good value;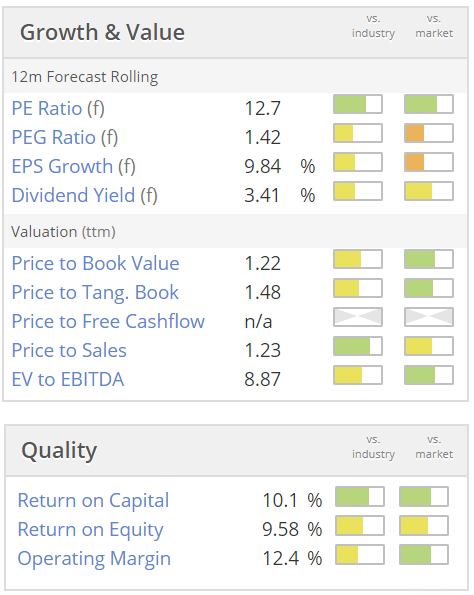 A lowish PER - although this type of business rarely receives a high PER.
Moderate dividend yield.
Note the Price to Tang(ible) Book (Value) - at just 1.48 this is excellent - demonstrating that the company has a solid balance sheet, with strong asset backing.
In the "Other ratios" box, note the green (positive) blob next to current ratio - which is outstandingly high, at 12.6 - again confirming that this company is very soundly financed, so won't be going bust…

Unlock the rest of this Article in 15 seconds
Already have an account?
Login here