Small Cap Value Report (Fri 7 Dec 2018) - GAW, SUS, AJB, GLE
Morning all, 
The FTSE closed at 6700 yesterday, down over 200 points.

I am not expecting many updates today from shares within my coverage universe but in the meanwhile, feel free to comment on the stories you're focusing on.
---
Share price: 3140p (+5%)
No. of shares: 32.5 million
Market cap: £1,020 million
Half year trading update and dividend
This miniatures company jumps back over the £1bn valuation mark after an update that is in line with expectations.

The share price had suffered in October following a cryptic (but typical for the company, I understand) update in which it said "there are some uncertainties in the trading periods ahead" (!).
Numbers today show that H1 sales have improved to £124 million (FY 2018: £109 million) and operating profit has improved to £41 million (FY 2018: £38 million).
The October trading update said that profits were running at "a similar level" to the prior year. The improvement which has actually been achieved in H1 will have come as a pleasant surprise to holders.
It's unorthodox but I find this company's reporting style quite refreshing. It seems as if the CEO isn't terribly interested in providing guidance in terms of financial forecasts, or in predicting the future, full stop.
Forecasts very often turn out to be wrong, anyway - so maybe there is no harm in having a CEO who admits that the future is uncertain and he doesn't really know what the numbers are going to look like a year from now.

Operationally, everything is fine:
These results show the Warhammer Hobby is in great shape in our core markets.  We have built on the progress we made last year and the results are considerable given the backdrop of major projects; increasing factory capacity and ERP system implementation.
The StockRanks love it: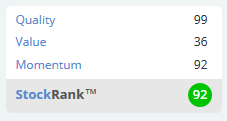 And it passes three screens for Momentum, Income and Growth:

Here's an example of a product displayed prominently on its website today. It's 6 inches tall in real life. Can you guess how much it costs?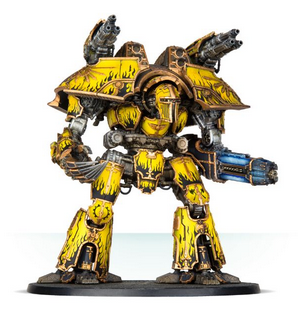 £65 for this creature, which is assembled and painted by the customer rather than by Games Workshop!

It's kind of fascinating when you think about it - Warhammer hobbyists enjoy the…

Unlock this Article with a 14 day free trial
Already have an account?
Login here