Small Cap Value Report (Mon 14 Jan 2019) - QUIZ, RBG, XPP, RST
Good morning, it's Paul here.
This is a dual-purpose report - partly for today's news, also to catch up from Friday, in particular with my thoughts on the latest profit warning from "omni-channel" fashion retailer, QUIZ (LON:QUIZ) .
Revolution Bars (LON:RBG) is reporting its peak period Christmas & NYE trading today. As this is my 2nd largest long position, I'll be heavily focusing on that, once I've got the Quiz section out of the way.
---
QUIZ (LON:QUIZ)
Share price: 24p (down 33% on Friday, at market close)
No. shares: 124.2m
Market cap: £29.8m
(at the time of writing, I hold a long position in this share)
Christmas Trading Update (profit warning)
Quiz calls itself an "omni-channel" (meaning physical stores, concessions, online, and international) fashion brand (mainly womenswear, with a focus on garments for special occasions, rather than basics).
AIM Admission
Floated on AIM in July 2017, by Panmure Gordon, at 161p per share
Raised £9.4m (after fees) for the company, from issue of 6,583,851 new shares
100% family-owned prior to float, 54% after float
Family trousered cash of £89.8m (after fees) from selling 46% of the company in the float
Share price has since lost 85% of its value, in 18 months
The float was very polished, presenting the company as an exciting growth story, achieving a high valuation. I attended a presentation shortly before the float, and was impressed with management. The online growth seemed to offer the potential for this to become something like Boohoo (LON:BOO) in the long run. Thankfully, I gradually lost interest in it, as it became clearer to me that the float price had been set too high, and that online (the bit that interested me most) was only a smallish percentage of total revenues. Also, from looking at product, I began to have doubts about the quality of the product designs.
As you can see from the share price chart, the wheels really came off in Oct 2018, and it's been downhill ever since;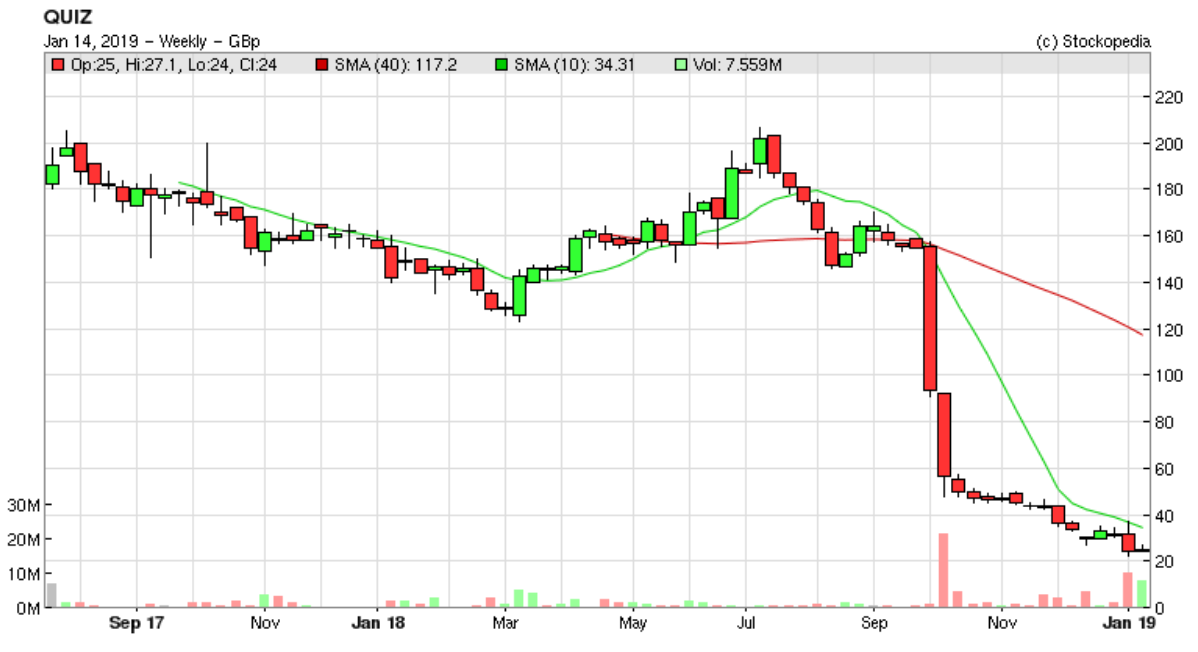 Oct 2018 profit warning - there was a nasty profit warning, which I reported on here. Low footfall was blamed,…

Unlock this Article with a 14 day free trial
Already have an account?
Login here