Small Cap Value Report (Mon 17 Sep 2018) - W7L, FIF, CTG
Good morning,
Today's report is taking ages to get going, so timing will be a bit later than usual, but I'm on the case.
These events are great fun. Please note that the next StockSlam is scheduled for Wed 24 October, evening, in central London.
At this stage, 15 presenters are needed, to do quickfire 3 minute pitches on your favourite shares. Then pizza & beer afterwards, networking & shares chat. Why not have a go, and apply to do a quick spiel about your favourite share? Click on the header above for more details.
Share price: 250p (up 5.3% today, at 12:04)
No. shares: 76.7m
Market cap: £191.8m
Warpaint London plc (AIM: W7L), the specialist supplier of colour cosmetics and owner of the W7 and Technic brands, is pleased to announce its unaudited interim results for the six months ended 30 June 2018.
Revenues have grown strongly, up 38.7% to £18.4m
This growth has mainly come from an acquisition on 30 Nov 2017, of "Retra"
Today's statement is admirably clear, also showing the organic revenue growth of 7.3%
Adjusted profit is down though, which is not good;
Adjusted Profit from Operations of £2.8 million* in the half year (before exceptional Items, depreciation and amortisation costs) (H1 2017 £3.1 million)
Outlook - this is the key bit, which reassures;
"The additional revenues in the second half, particularly from Christmas gifting, are expected to result in overall revenue being two thirds weighted to the second half of this financial year and with a fixed cost base that is evenly spread over the full year, we expect to deliver overall Group earnings in line with management's expectations.
It's good to have the seasonality clearly explained. Let's hope the company does manage to double H2 revenues over H1 - a steep increase.
Valuation on a PER basis looks about right to me;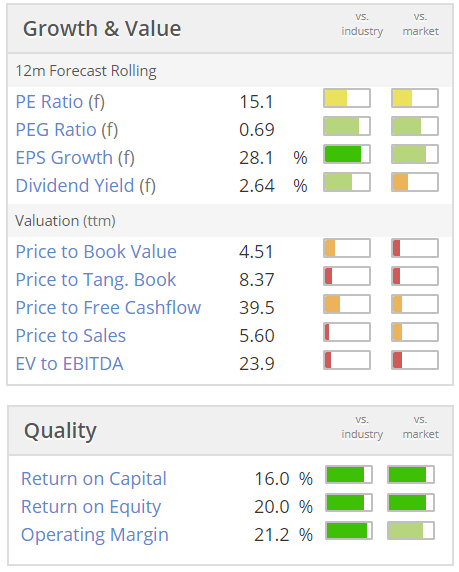 Note that the quality scores are high.
Balance sheet - looks excellent, with a very strong working capital position.
Although both inventories & receivables strike me as a little high - perhaps there are not tight enough controls over working capital?
Net cash of £4.6m is healthy.
My opinion - it looks quite interesting. It would…

Unlock the rest of this Article in 15 seconds
Already have an account?
Login here