Small Cap Value Report (Mon 5 Aug 2019) - DIA, BLV, EZH, RTC, PHO
Morning, it's Paul here for the whole week!
---
Share price: 361p (down 7.4% today, at 10:29)
No. shares: 32.5m
Market cap: £117.3m
Dialight plc (LSE: DIA.L), the global leader in sustainable LED lighting for industrial applications, announces its half year results (unaudited) for the six months ended 30 June 2019.
I last looked at Dialight here on 2 July, when it put out a profit warning, and fell sharply.
As you can see from today's H1 financial highlights, underlying profitability has almost evaporated. On a statutory basis, it made a pre-tax loss of £2.1m (due to non-underlying expenses of £2.7m);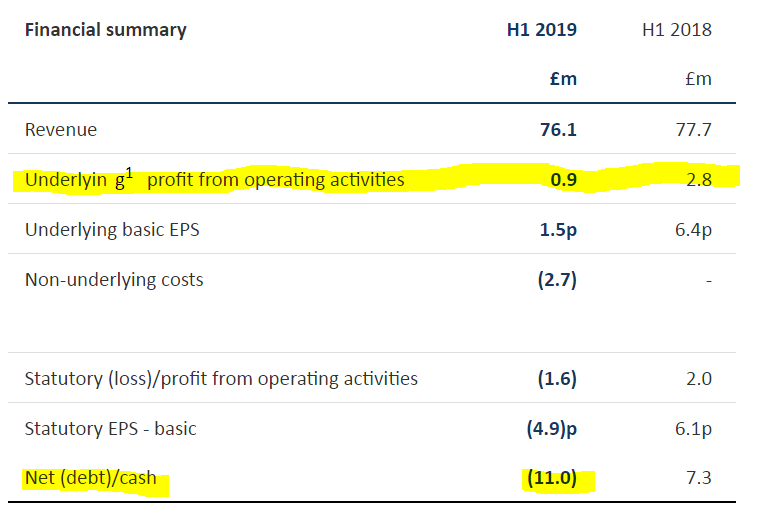 There seems to be an H2-weighting to profits, judging from last year's results.
Guidance - the last update on 2 July, told us that full year underlying profitability is expected to be £10-13m. Given that H1 has delivered only £0.9m, that leaves a lot of catching up to do in H2.
Today the company says;
Full year guidance for 2019

We expect some gross margin recovery in H2 2019 as we return to more normal levels of service. We continue to expect our capital expenditure for the second half of the year to be in the region of c£2m together with c£4m of capitalised development costs. The tax rate for the year is expected to be c26%, and we are expecting inventory levels to reduce by year end but it will take us to the end of Q1 2020 to fully unwind the excess inventory build up.

The Board's expectations for the year ending 31 December 2019 remain for underlying operating profit within the range of £10-13m, which is before incurring c£4m of non-underlying costs.

This assumes a pickup in orders and sales activity in H2, in part due to new product launches. As in previous years, Q4 is expected to be an especially important period of activity.
It's difficult to interpret these things, but it sounds a bit wobbly to me. Therefore my hunch is that there seems an above average risk of another profit warning to come in H2. Maybe. I don't know, it's difficult trying to predict the future.
Outlook comments - are…

Unlock this Article with a 14 day free trial
Already have an account?
Login here