Small Cap Value Report (Mon 5 November 2018) - Rob Terry, Mello London, AFN, GROW
Good morning! 

---
Rob Terry's Return?
A couple of newspapers have been running stories on Rob Terry (thisismoney, Telegraph) over the weekend, and his plans to create another stock market vehicle.
It doesn't look like a breaking news story to me. The "entrepreneur" has been threatening to launch another stock market vehicle for several years.
He originally planned to launch one called Quob Park Estate: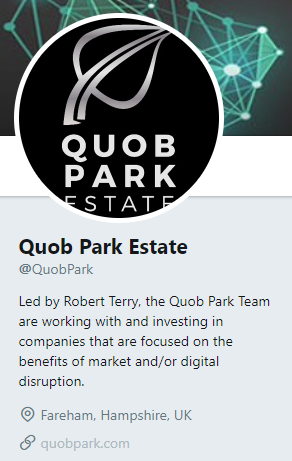 But plans to launch under that name have come to nothing, and the website has been converted to showcase his vineyard only.
His new venture is typical of the man: a nebulous business plan, grand financial targets and gobbledygook descriptions of what the business actually does.
The sad fact is that he probably will find a few more unsophisticated people to fleece. But hopefully not too many this time, as his modus operandi has been highly publicised.
The disgraceful element of the story is that he is even allowed to try it on again, for the third (or is it the fourth, or fifth?) time.
It was all the way back in March 2015 when Australian law firm Slater & Gordon bought the core business of Rob Terry's failing Quindell venture for £637 million. Slater & Gordon has since sued Quindell (now trading as Watchstone (LON:WTG) ) for fraudulent misrepresentation in relation to this deal.
My view - not a controversial one these days - is that Quindell would have gone bust if it had not been bailed out by Slater & Gordon.
The Serious Fraud Office began an investigation into events just a few months later. More than three years have now passed and Mr Terry is apparently still free to rip off investors. Progress at the SFO must be glacial!
KPMG admitted misconduct in relation to its audit work at Quindell and was fined £4.5 million. So at least there was some accountability from that angle. But what about Mr Terry?
The tiger cannot change its stripes and I would be supremely confident in any future Rob Terry venture ending the same way that his previous ones did: with him enriching himself, his investors walking away with very little, and with dodgy financial tricks and flowery language being used to camouflage the truth. No economic value will be created.
Different investors…

Unlock this Article with a 14 day free trial
Already have an account?
Login here