Small Cap Value Report (Thu 20 Jul 2017) - IQE, EGS, UCG, BOOM, CARR, MTC, JDG
Good morning ladies & gentlemen. It's Paul here.
They say that the early bird catches the worm, and that's very true in stock market terms. I wish I could discipline myself to start work properly at 7am each weekday, but I can't. It's usually more likely to be a quick run through a few RNSs on my iPad, then back to sleep.
As luck would have it, I started work today at 5:30am, wanting to get the monthly accounts done for a share club where I'm treasurer. So by 7am I was fully functioning. That was good, as I spotted 2 companies in particular, where some really good news came out, and I was able to buy, or top up, at the opening bell.
So let's start today's report with those 2 companies.
---
IQE (LON:IQE)
Share price: 97.75p (up 15.0% today)
No. shares: 676.5m
Market cap: £661.3m
(at the time of writing, I hold a long position in this share)
Trading statement - this is a Cardiff-based company which describes itself as;
the leading global supplier of advanced wafer products and wafer services to the semiconductor industry
I've covered this company here before, but have never really understood the sector, or the future potential - I just crunched the historic numbers. Several readers were well ahead of the curve, spotting the opportunity some time ago, and have been rewarded handsomely so far - the share price has risen a remarkable 5-fold in the last year.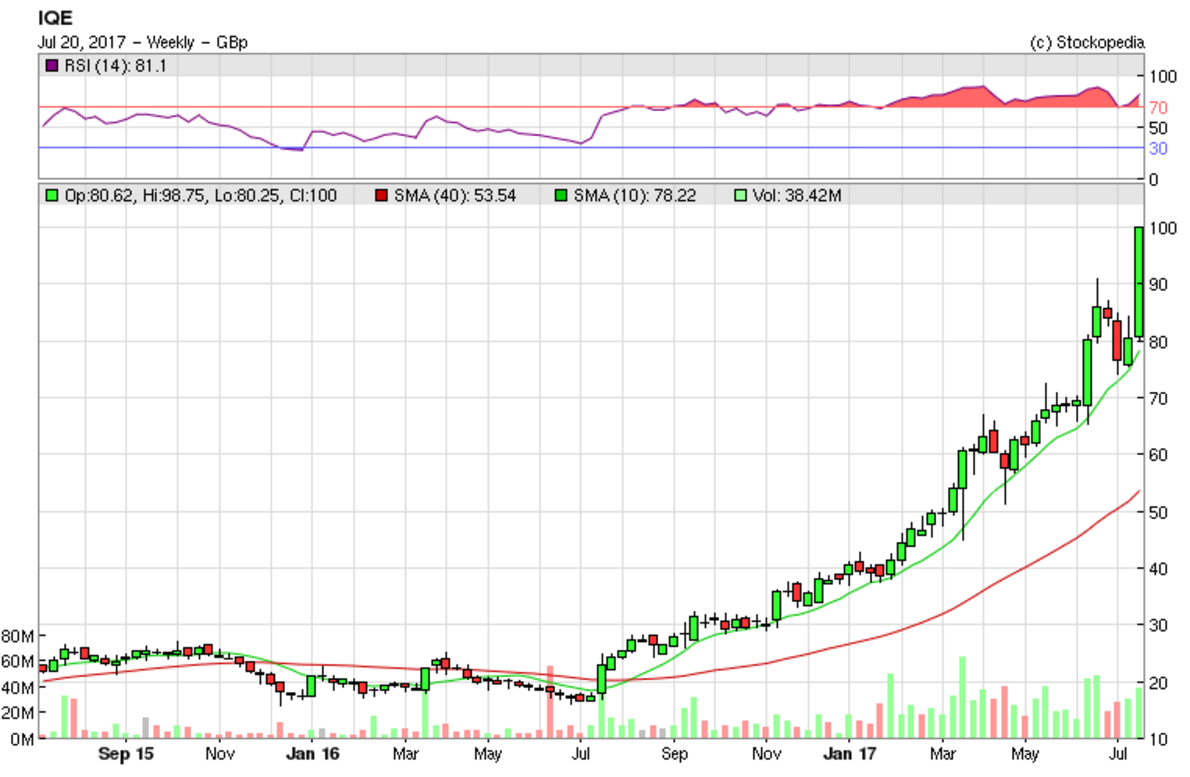 Reading its trading update today, I was struck by the comments at the end, which look game-changing to me. In particular this bit;
...In light of recent progress and its increasingly confident outlook, the Board expects the Group will now exceed market expectations for the full year and whilst it remains early into the start of the mass-market adoption of our technology, it is possible that with the current contract momentum, a more significant upgrade to current market expectations could be delivered for 2018."
We're in a roaring bull market at the moment, so that's exactly the kind of announcement which is likely to put a rocket under a share price. To a certain extent, this is the type of growth situation where…

Unlock the rest of this Article in 15 seconds
Already have an account?
Login here