Small Cap Value Report (Thur 12 July 2018) - ASC, PMP, INDV, DTG, POLR
Good morning!
The World Cup dream is over for another four years as far as England is concerned. No shame in getting to the Semis, though.

Some stock market news on the radar today:
---
ASOS (LON:ASC)
Share price: 6055p (-7%)
No. of shares: 83.6 million
Market cap: £5,062 million
ASOS is far too big for this report. It has knock-on effects across fashion retail in general, so I keep half an eye on it.
It has a year-end in August. This update completes the picture to June.
Good:
Gross margin up 130bps, ahead of plan
Market share growth continuing
Bad:

FY 2018 sales set for the lower range of guidance (+25% to +30% growth)
Neutral:
FY 2018 PBT to be in line with consensus
Medium term guidance unchanged for +20% to +25% sales growth p.a., 4% EBIT margin.
It's a very low EBIT margin, whatever way you look at it.
That doesn't necessarily mean poor returns for shareholders. ASOS's return on capital has been very good:

So I don't automatically rule out a company with a weak operating margin. If it generates lots of sales relative to its asset base, it can still generate fine returns (the metric you need to check for this is asset turnover - it's on the StockReport).

The ASOS valuation remains at the adventurous end of the scale, however, and the share price is highly sensitive to changes in sentiment.
I can see forecasts for net income of £81 million in FY 2018, followed by £100 million in FY 2019 and £125 million in FY 2020.
I suspect that these forecasts require a strong showing relative to the planned 20%-25% p.a. sales growth. So if forced to choose either way, I would bet that the negative drift in EPS forecasts will continue through FY 2019 and FY 2020: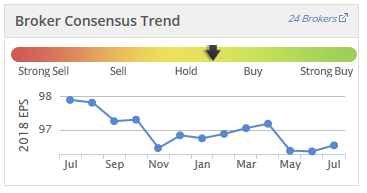 It's continued growth in market share looks inevitable, though.
Whereas before I might have shorted ASOS…

Unlock the rest of this Article in 15 seconds
Already have an account?
Login here