Small Cap Value Report (Tue 12 Dec 2017) - DRV, SVCA, BEG, PRES, JOUL, ZYT
Good morning, it's Paul here.
I have to head into London late morning, so this report will be earlier, and a bit briefer than usual. The results/updates that I intend covering are in the article header.

---
Share price: 63.5p (pre market open)
No. shares: 53.9m
Market cap: £34.2m
Driver Group PLC (AIM: DRV), the global professional services consultancy to construction and engineering industries, is pleased to announce its results for the financial year ended 30 September 2017.
This looks like a nice turnaround situation, which has been reflected in a recovering share price (up nearly 50% from its 2017 low in the spring). The highlights look good;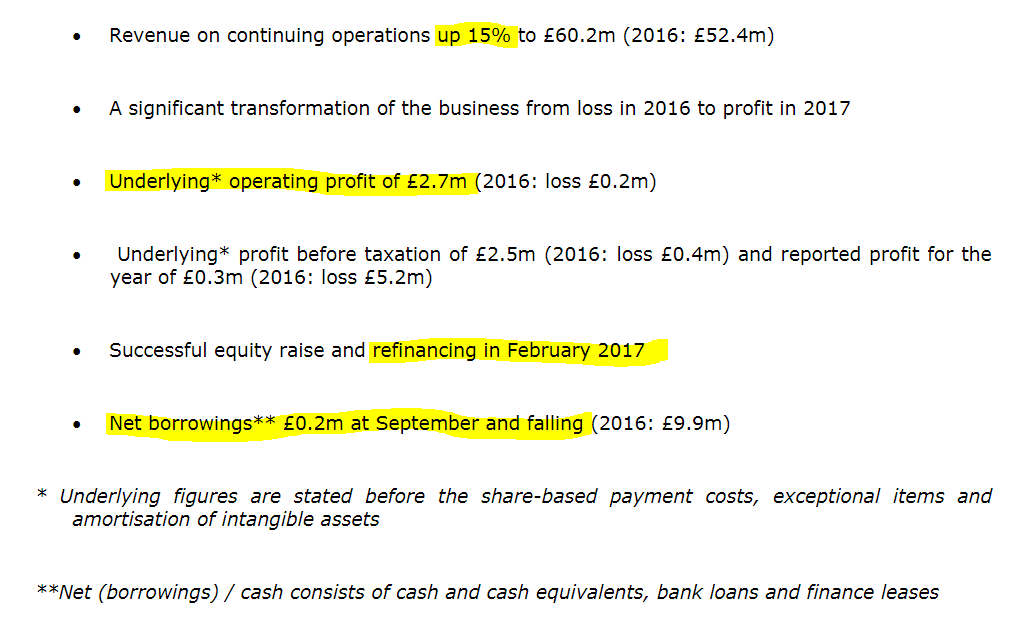 That's a decent swing back into profitability.
I also like that net debt has been almost eliminated, mainly from an £8.5m equity raise in Feb 2017.
Underlying EPS for continuing operations was 5.8p (2016: loss of 1.0p). Assuming that they are calculated on the same basis, that looks well ahead of the 4.2p broker consensus shown on the StockRank.
However, an important point to note is that the share count rose considerably about half way through the year, due to the refinancing. The average number of shares in issue is used in calculating EPS. Therefore next year & beyond, earnings will be diluted to a greater extent by a full year's impact of the larger number of shares. This is why forecast EPS is set to fall next year.
One broker comments this morning that its 4.1p EPS forecast for the current financial year 09/2018 might be too cautious, so there's scope for upgrades.
Outlook comments look mostly good;
Positive start to the year and continued strong cash collection in line with management expectations. 
Strong pipeline of opportunities across the Global business.

The first two months of the current financial year have shown a continuation of the positive trading and improvements that we enjoyed in the latter part of last year.

In a professional services business like ours, it is notoriously difficult to predict activity levels but your Board will continue to monitor costs and margins to ensure that the Company deals appropriately with the fluctuations in activity that are a feature of our business.

Nonetheless, your Board is confident that we…

Unlock the rest of this Article in 15 seconds
Already have an account?
Login here