Small Cap Value Report (Tue 12 June 2018) - BOO, PKG, MOTR, TED, AIR, FDEV
Good morning!
Of interest today are:
Sorry for the slow start this morning!

I'm updating the above list in response to reader requests and as I figure out which stories I want to prioritise.

---
Share price: 213.25p (-3%)
No. of shares: 1149.5 million
Market cap: £2,450 million
This online fast-fashion retailer is an honorary small-cap, as many in this community have been watching it since it was a tiddler (relatively speaking).
The shares have been back on another great run since last April, up 50% since then.
We are firmly in the middle of the range created over the past year:


The sales table for Q1 shows a great set of percentages: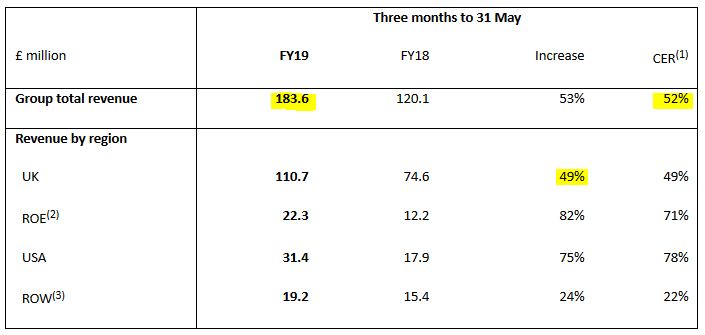 Growth in the core boohoo brand has slowed to 10% at constant exchange rates (CER). (For context, last year, the boohoo brand reported sales up 44% at CER.)
So the main growth driver has been PLT, whose revenues have surged again by almost 160% to £79 million.

I wonder if PLT has been stealing some of the growth that boohoo might otherwise have experienced? Although not serving exactly the same markets, they are each providing dresses and tops to 16-24 year old girls at a similarly cheap price point.
PLT remains 33% owned by the Kamani family. Perhaps there was some selling this morning out of disappointment that growth had been so heavily weighted toward PLT, which has this large minority shareholding, rather than toward the boohoo brand?
Nasty Gal also performed well, revenues up 150% to £7 million.
Outlook statement: trading has been in line with expectations.
For the full year, we continue to expect group revenue growth to be 35% to 40% with adjusted EBITDA margin between 9% to 10%. All other…

Unlock the rest of this Article in 15 seconds
Already have an account?
Login here