Small Cap Value Report (Tue 17 July 2018) - SOM, IDEA, SNX, CALL, SBIZ, BILB, FLO
Good morning!

We have plenty to digest today.
---
Share price: 405p (+2%)
No. of shares: 56 million
Market cap: £228 million
This is the maker of concrete leveling equipment we have covered many times before.

H1 trading is as anticipated, and guidance for the full year remains in line with market expectations
Four of Somero's six territories produced growth, including Europe and US (the most important territories).
China is down sightly, but Somero is still "encouraged" by activity levels there (I have frequently expressed doubt as to whether it will ever achieve much success in that country).
Latin America is also down. Again, the company reckons this is set to improve.

CEO comment:
The first half of the year has seen solid growth in terms of profitability and cash flow generation. The positive momentum of our business and favorable market conditions point to a positive H2 2018. In addition, we are truly excited about the significant opportunities for Somero that lie ahead derived from our continued investment in new product development, a key element to our long-term growth strategy."
My view

No change to my view on this. A good company, with limited competition, and conservative management. I expect it to continue to do very well in Europe and the US.
The algorithms love it. Many investors are now familiar with the story, so its rating is at a suitably high level. Quality and moment remain strong: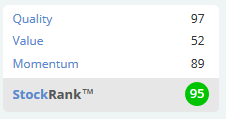 It is sensitive to conditions in the construction industry, as you would expect. These conditions have been favourable for a lengthy period of time. If I was going to put Somero in my portfolio, I would want to be sure that I was comfortable with that risk.
---