Small Cap Value Report (Tue 18 Jul 2017) - SFE, SOM, NTBR, DOTD
Good morning ladies & gentlemen! It's Paul here.
I added a few extra sections to Graham's report last night, in the comments section. So for my comments on Elecosoft (ELCO), Interquest (ITQ), and Conviviality (CVR), please see my comment (no.26) using this link.
I appreciate that me adding extra sections in the comments isn't ideal, but it's a quick & easy way to post stuff on my days off, that otherwise wouldn't be posted at all. Plus I will always add a link to such extra sections, the following day.
---
Share price: 230.8p (down 10.2% today)
No. shares: 82.8m
Market cap: £191.1m
Half year trading update - for the 6 months to 30 Jun 2017.
I hadn't realised how much this double glazing company's share price had fallen recently. As you can see from the 2-year chart below, it's now close to the post-Brexit vote low, and autumn 2015 low. So if you like the company, this could be a buying opportunity. Or something might be going badly wrong. That's always the big quandary with buying dips.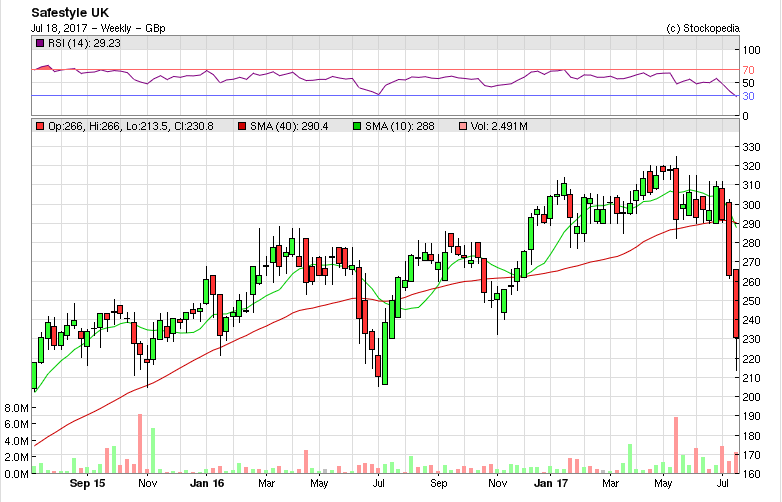 It sounds like market conditions are getting a fair bit tougher - which is consistent with other companies reporting more fragile consumer confidence;
Since our last trading statement at our AGM on 18 May 2017, the Company has continued to trade in line with earlier months, with order intake levels continuing up 2% year on year. Within this overall figure, however, the trend from week to week during Q2 has been more volatile than we have experienced for a long time.

Furthermore, FENSA statistics for the five month period to the end of May 2017 show a market decline in volume terms in excess of 10%. Against this backdrop of patchier consumer demand, it is clear that Safestyle continues to significantly outperform the market and to increase share.
It's good to see that the company is giving fairly specific guidance to investors on how 2017 is likely to pan out;
As outlined in our AGM statement, we expect to report marginal revenue growth in the first half of 2017, with reduced profits. Given the uncertain market conditions and weaker consumer confidence, we consider it prudent to…

Unlock the rest of this Article in 15 seconds
Already have an account?
Login here