Small Cap Value Report (Tue 19 Feb 2019) - GRG, DUKE, MANO, DOTD, 888, BLTG
Good morning!
A mixed bag of companies reporting today. This list is final:
---
Share price: £17.16 (+7%)
No. of shares: 101 million
Market cap: £1,734 million
Amazing share price returns at Greggs and the chart has now broken out to new all-time highs.
It reports an exceptionally strong start to 2019:
like-for-like sales up almost 10% for the seven weeks to mid-February, total sales up 14%.
vegan sausage roll has proven to be a hit and boosted publicity.
versus weaker growth in H1 last year (caused by poor weather), H1 this year will be much better.
full-year result is likely to be ahead of expectations.
My view - this company proves that it is possible to do well on the High Street. You have to get your brand/market positioning just right.

The StockRanks like it, but I'd note that the Value Rank is prety low. The P/E ratio is pushing 22x: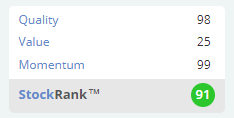 That same sort of earnings multiple will get you a stake in Mcdonald's ($MCD). For the same price, surely the golden arches would be a safer bet long-term?
---
Share price: 41.5p (+1%)
No. of shares: 200 million
Market cap: £83 million
(Please note that at the time of publication, I have a long position in DUKE.)

Apologies to those of you who were looking forward to my interview with the company - it was delayed, but was rescheduled for next week. There'll be lots to talk about now!
Duke announces a new £10 million deal with "the largest privately-owned recreational vehicle parts wholesale company in the UK". 
Its website meta-description describes it as "wholesale distributors to the caravan, motorhome, boat and leisure industry." There are over 7,000 products in its online catalogue, with today's announcement saying that it provides over 15,000 parts and has "very low customer concentration risk". It generated sales of £23 million in 2018.
Key points:

Unlock the rest of this article with a 14 day trial
Already have an account?
Login here