Small Cap Value Report (Tue 19 Mar 2019) - BON, NAH, SCS, TUNE, JDG, BMY, ZTF, TRB, ELCO, BGO
Good morning, it's Paul here - with my rather erratic reporting schedule - apologies - we get there in the end.
Monday's report is here.
Rightly or not, I reckon the premium bid for FOOT could be what we need, to highlight value amongst small caps. The trick is finding the ones that are under-priced, and avoiding the ones that are in permanent decline. If any of us could do that perfectly, we'd be billionaires! In truth, we're trying to predict the future, so it's educated guesswork.

I'll do my best, as your small caps guide. But please remember that I'll be right:wrong about 60:40 in a good year. 75:25 in an amazing year (e.g. 2017). And maybe 40:60 (or less?) in a bad year. So the onus is to figure things out for yourself. If I can help, by pointing out a wobbly balance sheet, etc., then I'll try.
Ultimately, your success comes from your own skill and luck (and genius!)!
---
Share price: 29.5p (down 20% here today, at market close)
No. shares: 50.0m
Market cap: £14.8m
Trading update (profit warning)
It's remarkable to see that this womenswear retailer has now lost about 90% of its share price since its series of profit warnings began, in Dec 2015.
As you can see from the Stockopedia broker consensus graph, expectations for the current financial year (ending 31 Mar 2019) have collapsed, and this is before any downgrades resulting from today's profit warning have been taken into account;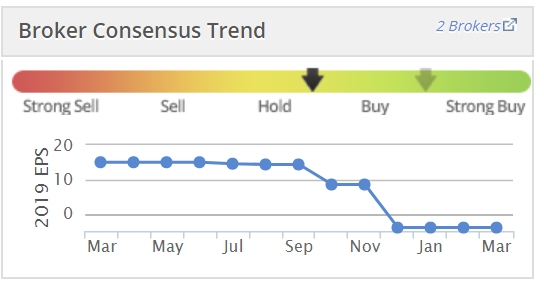 My notes from the last trading update in Jan 2019 are here. I concluded then that there's little likelihood of the business recovering, and the divis would probably soon stop altogether. A slowly dying business, by the looks of it.
Current trading - is grim. When I last reported (in late Jan 2019) the company was expecting a loss for FY 03/2019 of around -£2m. Today things are looking much worse;
... However, trading since the beginning of March has been significantly weaker, reversing sales gains made in the previous months. In light of this, we now believe there is a likelihood of sales levels for the remainder of the month continuing to follow this trend, which would…

Unlock this Article with a 14 day free trial
Already have an account?
Login here