Small Cap Value Report (Tue 31 Dec 2019) - EAH, BGO, End of Year Review
Good morning, it's Paul here.
Apologies for yesterday's report not getting off the ground. There wasn't any interesting news, and I had a case of writer's block unfortunately. I'll circle back, and write something about BigDish (in which I hold a long position) in yesterday's report, which also ties in nicely with the theme of investing mistakes!
EDIT at 20:49 - yesterday's report is now finished.
Note that the London stock market closes early today, at 12:30.  This is easily forgotten. I remember one year, when I was still staring at my screen, monitoring prices at 1:00 pm, when it suddenly dawned on me that the market had been shut for half an hour! Too much eggnog probably.
EDIT at 14:11 - today's report is now finished.
I'll be watching out for any profit warnings that are slipped out today.
There are a couple of trading updates out today, so here goes;
Share price:  215p (pre market open)
No. shares:  67.5m
Market cap:  £145.1m
ECO Animal Health Group plc ("ECO" or "the Group") researches, develops and commercialises products for livestock. Our business strategy is to generate shareholder value by achieving the maximum sales potential from the existing product portfolio whilst investing in Research and Development ("R&D") for new products, particularly vaccines, and seeking to in-license new products.
Results for the six months ended 30 September 2019
We can see from the two-year chart, that the price has been steadily drifting down, then a gap down in Nov 2019, which must have been a profit warning: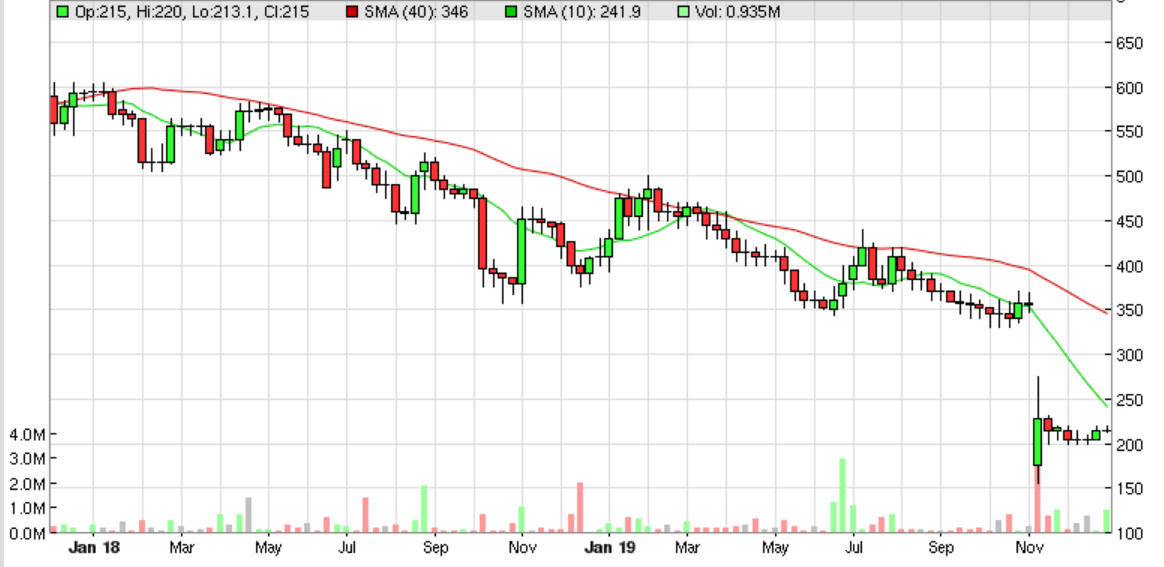 I reported on the profit warning here on 11 Nov 2019. My conclusion then was that this looks a potentially interesting recovery situation, with a strong balance sheet, good dividend yield, and problems specific to one particular market - China, its largest market (due to Swine Flu). Although I decided that this share was impossible to value at the time, due to lack of detailed numbers. Also it reported some accounting irregularities, which is usually a warning for investors to run for the hills.
Note how broker consensus earnings for this year, FY 03/2020, have recently been more than halved from 20.3p to 9.65p. This is a useful reminder…

Unlock the rest of this article with a 14 day trial
Already have an account?
Login here