Small Cap Value Report (Tue 4 Sep 2018) - SFE, MBH, UTW, SEE, CAMB, DSG, GATC, MCLS, JSG, KOOV, DAL, SFR,
Good morning!
Firstly, I've added a quick comment on an interesting announcement from a double-glazing company, which slipped through the net yesterday.
Share price: 47.9p (up19.8% yesterday, at market close)
No. shares: 82.8m
Market cap: £39.7m
This double-glazing company floated in Dec 2013, and for several years delivered good results, and rising divis.  It all started to go wrong in July 2017. As you can see from the chart below, this is a great example of how it's often best to sell out (if you can) on the first sign of trouble.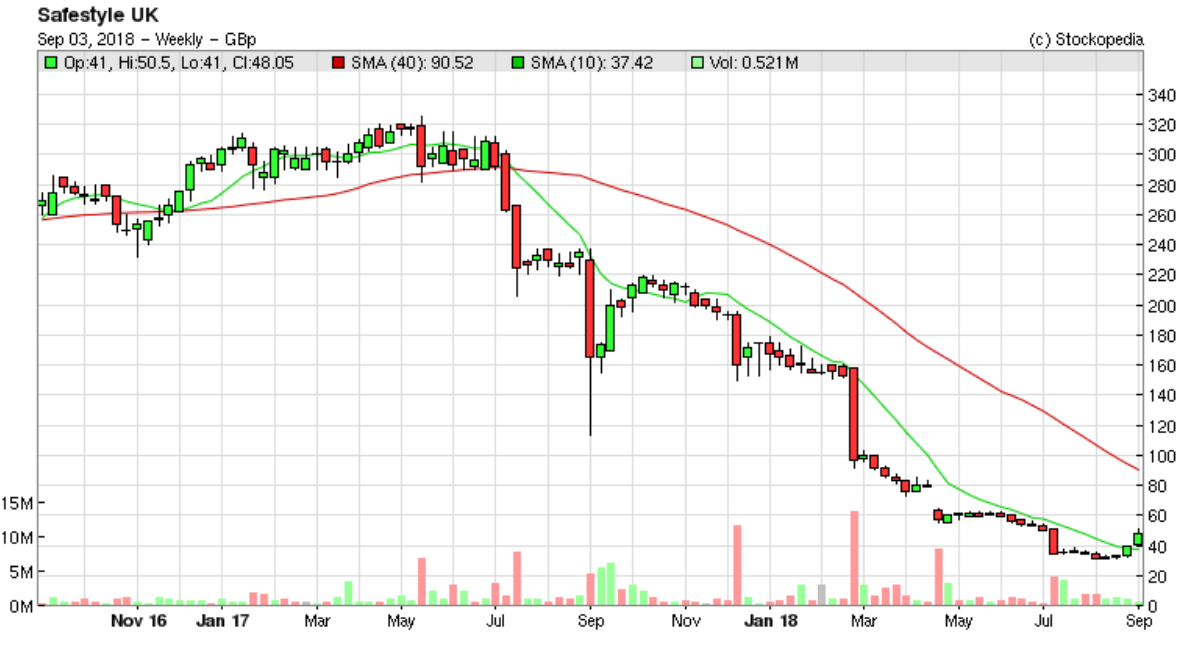 The bad news seemed to come out in stages. I've just re-read mine & Graham's articles here in the archive, reporting on each profit warning. The red bars are clearly showing on the candlestick chart above, reflecting each time the company put out another profit warning.
It's interesting to see that in each case, Graham and I commented on how the company looked cheap after each profit warning. However, with earnings forecasts constantly falling, it turned out to be far from cheap. Thankfully we both remained fairly sceptical about the company, and managed to avoid getting caught out catching the falling knife.
It transpired that, apart from cost increases, the big problem seemed to be a new competitor which, I am told, poached staff from SafeStyle, and traded under the name SafeGlaze UK (also known as NIAMAC).
Safestyle launched legal action, described today as being;
... for alleged trade mark infringement, passing off, misuse of confidential information, malicious falsehood and various other matters.
A settlement has been reached, but no financial details are given;
In the settlement, NIAMAC has agreed that the existing court injunctions will be replaced by appropriate undertakings to the court. The settlement ensures that there will be no misuse of confidential information or misleading statements to customers. The settlement governs future relations between Safestyle UK and NIAMAC to prevent the possibility of any acts of intimidation or harassment of Safestyle UK representatives.  In addition, SafeGlaze UK has agreed to change trading name and rebrand fully within an agreed period of time.
Further details of the settlement will remain confidential.
My opinion - this clearly seems to be a…

Unlock this Article with a 14 day free trial
Already have an account?
Login here