Small Cap Value Report (Wed 1 August 2018) - NXT, CNKS, SOG, HSP, FCA, GETB
Good morning!
Today we have:
---
Next (LON:NXT)
Share price: 5596p (-6%)
No. of shares: 140 million
Market cap: £7,817 million
(Please note that I currently own NXT shares.)

It's an H1 update from this retailer. The new bit is the middle column: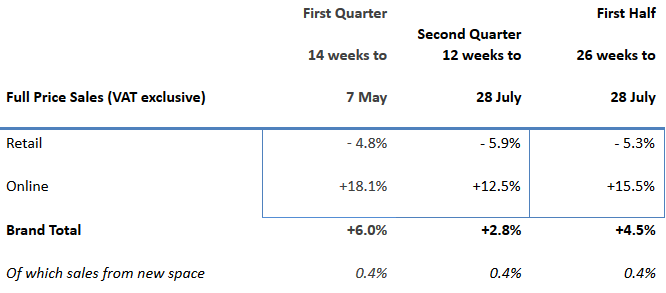 The sales growth in Q2 is not as good as Q1, although those Q1 numbers were remarkably strong.
The company puts the results in context: it had guided for full price sales for the rest of 2018 to be up around +1%. Therefore, this +2.8% result for Q2 is ahead of guidance.
But, since many of these sales have probably been pulled forward from August, Next is leaving full-year guidance unchanged.
We get a useful chart showing the performance of each week compared to last year - it shows that the first week of heatwave in 2018 saw sales up more than 25% against the same week in 2017.
The end-of-season sale went better than expected, but gains were offset by higher warehousing and distribution costs.
Cash flow & profit guidance: no change. 2018 PBT is still guided to be 1.3% below 2017 PBT, though EPS will be higher thanks to the completed share buyback programme.
My view: Share price weakness today reflects the fact that the company has been so conservative with its full-year forecast, implying that H2 is going to be much weaker than H1.
I'm happy to continue holding. This share fits my pattern of buying into large, leading companies where growth may have stalled in the short-term but where management are highly competent and the balance sheet and cash flows are strong. Next expects to generate £300 million of surplus cash this year and that's after paying ordinary dividends. And crucially, it looks like it will survive the ongoing transition to online sales.
The algorithms love it: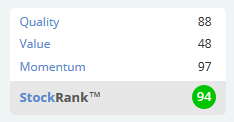 ---