Small Cap Value Report (Wed 2 Jan 2019) - SPSY, URU, CTEA
Happy new year!
News is very thin today, so I'm struggling to come up with ideas to discuss in today's report. I'm also learning to type "2019" in all of the places where I used to type "2018".
Several readers have requested a look at Spectra Systems (LON:SPSY), which I note has a StockRank of 92: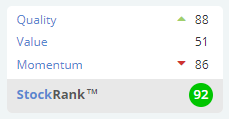 ---
Share price: 119p (+13%)
No. of shares: 45 million
Market cap: £54 million ($68 million)
First Orders for TruBrand in China
This US-based company currently describes itself as:
a leader in machine-readable high speed banknote authentication, brand protection technologies, and gaming security software
It's based in Providence, Rhode Island (East Coast).
Today's announcement relates to orders from China for its TruBrand™ product. Nice to see robust trading between the US and China!
TruBrand enables the authentication of high-value products - such as cigarettes.
Today's order is from "Zhejiang Tobacco" which I understand is a reference to "China Tobacco Zhejiang Industrial Co.", one of the main provincial tobacco companies in China, 
Unfortunately, Zhejiang Tobacco's own website is not working today - even when I use a proxy server based in Hangzhou.
Spectra reports that the order is for Zhejiang's Liquan Yundun Series, which I have identified is probably the Liqun Leisure Cloud, whose official price is 100 yuan for a small box.
Fake products are a fact of life in China. Official methods for checking the authenticity of cigarettes consist of looking at the stamping and printing on the box and cigarettes - this is the old-fashioned way. With Spectra's method, you take the human error out of it.

CEO comment:
We are optimistic that this first launch with one of the highest value cigarette brands in China will lead to the adoption of TruBrandTM across larger volume product lines, that could downstream result in over a billion units annually from this supplier alone."
This looks like a trial to me - Zhejiang will try out the product on between six and eight million packs of the Liqun Leisure Cloud. If it works then it will be continued and could be rolled out to other product lines.

Valuation

No numbers are given today in terms…

Unlock this Article with a 14 day free trial
Already have an account?
Login here