Small Cap Value Report (Wed 2 May 2018) - PDG, AXS, EMR, PLA, OTMP, AIEA
Good morning, it's Paul here.
Firstly, my apologies for yesterday's (lack of) report. I've set aside all day today, with no meetings, to cover both yesterday & today's RNSs of interest. I'll do today's report first, then circle back to yesterday's report this afternoon.
The header shows the 5 company announcements that I'll be tackling first today.
---
Share price: 82p (unchanged, before market open)
No. shares: 49.0m
Market cap: £40.2m
Empresaria, the international specialist staffing group, will hold its Annual General Meeting today at 1.00pm ...
The most important bit is a brief trading update;
"The Group remains on course to meet market expectations for the full year. A trading update will be published on 25 July 2018 and interim results for the six months ending 30 June 2018 will be published on 22 August 2018."
The first thing I check is the graph on each company's StockReport, which shows the movements in consensus broker forecast EPS. In this case, as you can see below, broker expectations for earnings have fallen a fair bit recently;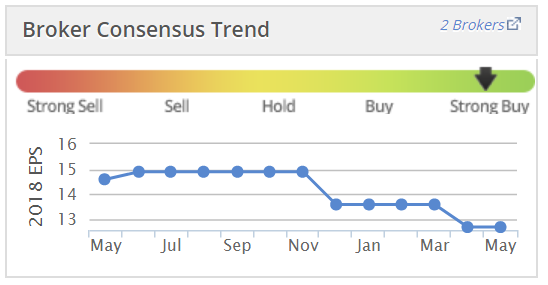 This might possibly be related to forex movements. Empresaria has considerable overseas earnings. The relative strength of sterling against the dollar in the last year, means that the forex translation of some overseas earnings into sterling is now adverse on a year-on-year comparison. Whereas earnings at this group had previously benefited from weak sterling in 2016, and the first half of 2017.
Having said that, checking the figures, sterling has been relatively flat against the Euro in the last year. So currency movements are more an issue for sterling-dollar.
Change of CEO - Joost Kreulen is standing down as CEO today (not seeking re-election at the AGM), but will continue as a part-time consultant. This suggests no animosity, which is reassuring for investors (if it's true).
Spencer Wreford (currently COO, and formerly CFO) is taking over as CEO.
My opinion - I met these two Directors a year or two ago, and it struck me then that Wreford seemed to be a CEO-in-waiting. Kreulen didn't look in the best of health, so having a reduced role in the business, with less travel seems a sensible move.
As…

Unlock the rest of this Article in 15 seconds
Already have an account?
Login here