Small Cap Value Report (Wed 22 May 2019) - W7L, VTC, VLE, PETS
Good morning, it's Paul here!
Pre-7 am comments
As I'm up early today, let's have a quick look at yesterday's stragglers.
I can't motivate myself to look at Nexus Infrastructure (LON:NEXS) in more detail, so have instead looked at a couple of more interesting announcements from yesterday;
Share price: 102.5p
No. shares: 76.7m
Market cap: £78.6m
This company sells cosmetics.
Issued at 10:59am - not good. I understand the logic for announcing at this time - i.e. issue the update at the same time as it's being spoken at the AGM. However, for me the golden rule is to always put out trading updates at 7 am, when the market is closed. This enables everyone to digest the announcement at relative leisure, and gives a level playing field. Whereas an intra-day trading update gives a timing advantage to day-traders & city people who are glued to a screen all day, and hence can react (if needs be) first.
Trading update - sounds reasonably reassuring;
"I am pleased to report that the outlook for the Company remains in line with that reported at the time of the release of our annual results for the year ended 31 December 2018 on 10 April 2019.
"Whilst trading conditions remain challenging in the UK, we continue to see encouraging international sales growth, in particular in the EU and the US.
"The Group has a sound financial footing and we are actively implementing our strategy for growth.  We look forward to the remainder of the year with cautious optimism."
Why are trading conditions challenging in the UK? Consumer demand is fine, providing companies have a decent online sales strategy, as well as selling via physical retailers. My worry is that there might be something wrong with Warpaint's products?
As you can see, broker consensus forecasts have been reduced over the last year, so something's obviously wrong;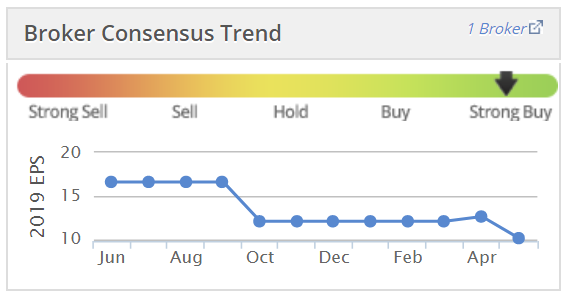 Looking at the share price chart below, you can see there must have been a profit warning last Oct/Nov, and the shares have not recovered from that;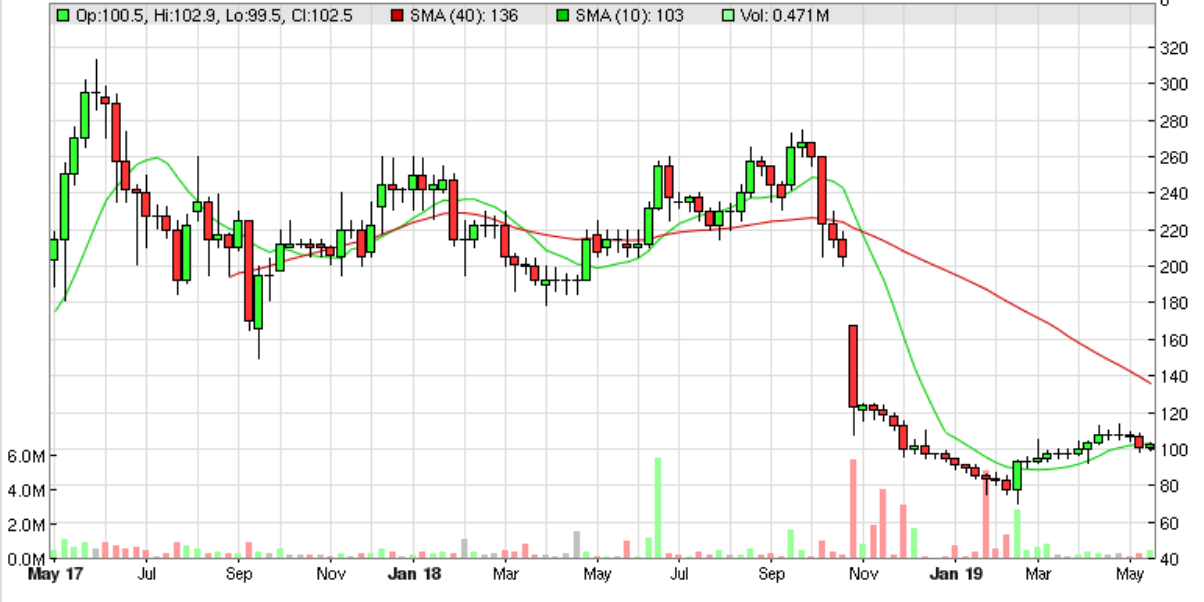 I reported here on the 29 Oct 2018 profit warning in a fair bit of detail.
Valuation…

Unlock this Article with a 14 day free trial
Already have an account?
Login here