Small Cap Value Report - Wed 26 Jul 2017 - LOOP, MYSL, QTX, VTU, JOUL
Good afternoon, it's Paul here.
I woke up with a stinking cold, so am running late today. Therefore, this article will gradually take shape throughout this afternoon.
---
Share price: 175p (up 8.4% today)
No. shares: 41.0m
Market cap: £71.8m
Trading update - this is a SaaS company, which provides conference calling software/telephony. It's an excellent product, which I have tried out myself. It allows a greater level of control, and enhanced features, compared with conventional conference calling systems.
Today's update covers the 6 months to 30 Jun 2017. These are the highlights;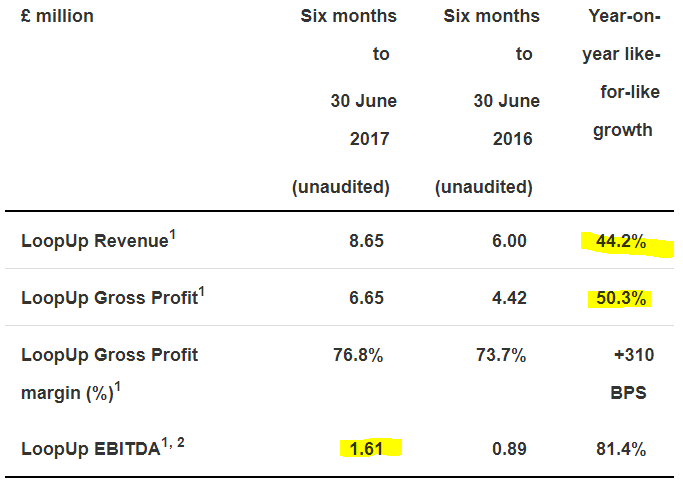 That's impressive stuff. Gross profit being up 50%, through organic growth, is really excellent, and justifies a premium rating for this share.
One complaint is that the company only presents EBITDA. That's annoying, because it now means that I have to check what development costs the company is capitalising, to arrive at a more meaningful view of profit. EBITDA is of interest, but it is absolutely not the only measure of profit that companies should give us. I very much dislike the current trend to steer investors towards EBITDA only.
Checking the accounts for y/e 31 Dec 2016, it turns out that EBITDA was £2.1m, yet operating profit was only £0.4m. So EBITDA certainly seems a misleading number here. The reconciling items were £246k in depreciation, and £1,419k in amortisation of intangibles.
In 2016, the company capitalised £3.2m into intangible assets. I've checked note 15 of the 2016 Annual Report, trying to find more detail on the intangible assets, but nothing more is given. So I can only presume that this is capitalised development spending.
Outlook - this also sounds positive;
"Looking ahead into the second half of 2017, we continue to see strong demand for the LoopUp product and we remain confident in our ability to deliver future growth."
The company seems to have settled at an organic top line growth rate of c.40% p.a.. Combine that with very high gross margins, and there is very powerful operational gearing here.
My opinion - this is a very nice company. I visited their Shoreditch HQ last year, and was really impressed. The people & the place had a real buzz to it. It's a young company,…

Unlock the rest of this Article in 15 seconds