Small Cap Value Report (Wed 28 Mar 2018) - ARBB, INL, WINK, DFS
Good morning!

The following stocks have caught my eye today (edited at 3pm):
---
Share price: 1330p (unch.)
No. of shares: 14.9 million
Market cap: £198 million
We've not covered Arbuthnot before, an old name in private banking. It has offices in London, Manchester, Bristol, Exeter and Dubai, and is 55% owned by its Chairman and CEO.
To give an example of its clientele, here is a link to an article from last year, when it had a bankruptcy ruling in court against a famous former tennis player. It is probably unrelated, but there is now a repossessed property worth £2.9 million on Arbuthnot's balance sheet.

In 2016, it sold its majority stake in Secure Trust Bank (LON:STB), distributing a huge special dividend of some 300p to shareholders shortly afterwards. It retains 18.6% of STB.

It's helpful to ignore the effect of STB and focus instead on the results for its operating subsidiary, Arbuthnot Latham (the private bank).
These results are excellent, as more funds are lent out at a consistent net interest margin:
Profit before tax £11.0m (2016: £9.1m) an increase of 21%
Average net margin at 4.8% (2016: 4.8%)
Customer loans exceeded £1bn increasing 38% to £1,049m (2016: £759m)
Loans and advances to customers are broken down as follows: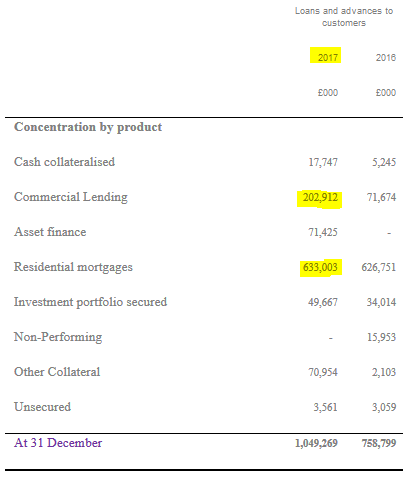 As you can see, the lion's share is accounted for by plain old residential mortgages and commercial lending.
Of the £1.05 billion in total lending, more than £600 million is to customers in London, the South East and South West.

The Chairman's comments are forthright, particularly on regulatory matters:

The Countercyclical Capital Buffer was reportedly introduced by the Bank of England with the intention of dampening a perceived bubble that may have been developing in the unsecured credit markets, in particular those related to credit card loans. If this was the case, would it not have made sense…

Unlock the rest of this Article in 15 seconds
Already have an account?
Login here